It's Monday! And that means it's time for your weekly dose of all the great Gaming Memorabilia news from this past week…err….past 2 weeks.
With the launch of the new Cartridge Club website, time for last week's post was few and far between – so I decided to give you guys an extra special 2-week round-up! These past few weeks have been all about figures, figures, figures – so get ready to see a lot of your favourite franchises represented. Not a lot from the retro scene, but certainly some great stuff for fans of the more recent AAA titles. Let's get started!
FIVE NIGHTS AT FREDDY'S – BABY AND LOLBIT ARTICULATING ACTION FIGURES
Funko is bringing us more great Five Nights at Freddy's merchandise – this time with 2 new Sister Location action figures exclusive to Walgreens in the USA. Both are set to release this month, and depict Lolbit (who wasn't previously released) and Baby (this time a glow-in-the-dark version). This builds off the previously released line of 2″ figures which included Baby, Ballora, Funtime Foxy and Funtime Freddy.
FIVE NIGHTS AT FREDDY'S – POP! VINYL FIGURES
If you thought the articulating action figures were awesome, Funko surprises us again with 4 new exclusive Pop! Vinyl figures! The first is Jack-o-Bonnie, which is exclusive to Barnes & Noble and scheduled to release in September. Also releasing in September, is the Funtime Foxy entry, only available at Best Buys. Gamestop sees an exclusive Bon Bon figure hit shelves in early October. And finally, shortly after, fans will be able to get their hands on Dark Springtrap, sold exclusively at Targets. These 4 pieces are just in time for the Halloween season, so be sure to grab them for your game room shelves!
THE ADVENTURES OF BAYOU BILLY – SHIP TO SHORE LIMITED EDITION 7″ VINYL RECORD
Ship to Shore Phone Co. has been making a scene in the gaming-record market lately, and this latest announcement has retro-gamers clamouring. For the first time ever on vinyl, Ship to Shore PhonoCo., in conjunction with Sony Music Entertainment, is proud to present Hirokazu Tanaka & Keiichi Suzuki's original soundtrack to the 1994 Super Famicom classic MOTHER 2: ギーグの逆襲 (MOTHER 2: Gyiyg Strikes Back!).
THE ADVENTURES OF BAYOU BILLY – SHIP TO SHORE LIMITED EDITION 7″ VINYL RECORD
The Konami Kukeiha Club Museum Series was started by Ship to Shore PhonoCo. in order to highlight lesser known gems from the esteemed history of the legendary Konami sound team. Released on 'swampy green marble 7″ vinyl', this limited-edition run will no doubt be sold out in no-time when it hits pre-sales later this week. The album include a traditional Japanese obi strip, and a 11''x17'' poster by artist Austin James and liner notes by Retronauts.com's Jeremy Parish.
BORDERLANDS – CLAPTRAP MCFARLANE TOYS ACTION FIGURE
We've seen Handsome Jack and Tiny Tina, but this week McFarlane Toys revealed Claptrap as the newest character in their Borderlands action figure series. The general purpose CL4P-TP robot will stand about 4.5 inches tall and come with One Shot Wonder hat, Gun Wizard hat, Jakob's Pistol, Wand and Key. Look for him Spring 2018.
FALLOUT – OPERATION BOARD GAME
Vault Boy is in dire need of your assistance, so grab a Stimpack and ready your operating hand! In this S.P.E.C.I.A.L. edition of classic Operation, take on the role of a Vault-Tec certified doctor and help bring your patient's health back to 100%. We see a lot of Monopoly and Jenga brands hit store shelves, but this is one of the first video-game "Operations" I've seen – and I love it!
FIRE EMBLEM WARRIORS – SPECIAL EDITION
Nintendo just announced a Fire Emblem Warriors special edition version for the anticipated Nintendo Switch and 3DS game. In addition to the game, the premium package ($80) comes with three music CDs and 25 character art cards on 5×7 card stock, and a slip case to hold them. The package also has a two-sided poster in it featuring the game's characters, depicting the first games in the series in which they appeared.
METAL GEAR SOLID – FIRST4FIGURES STATUES
! What was that noise!? Everybody knows First4Figures by now, and this week is a perfect example of why. They've announced hefty lineup this year, and have headlined with 3 'amazing' Solid Snake statues from the
Metal Gear franchise. The first is the standard release, featuring Solid Snake pressed up against a dilapidated building. Next is the Exclusive version, which comes with an LED Night Vision Goggles headpiece and a Rotating Ammo Box. And finally, the Stealth Camouflage version which includes all of the Exclusive perks, but is a translucent sculpt. Pre-orders start on Tuesday – so get ready!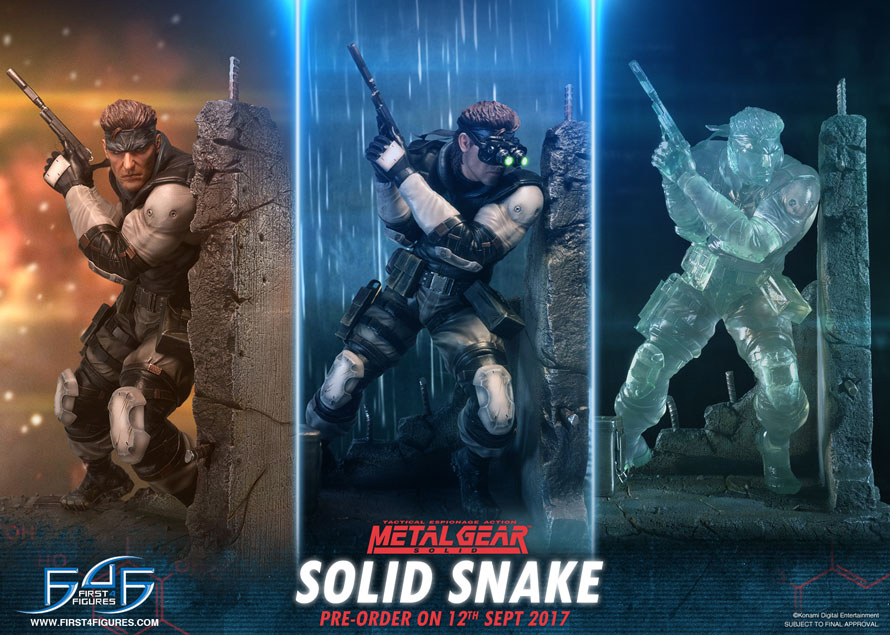 DARK SOULS – TORCH TORCH ACCESSORIES LINEUP
First4Figures is well known for their amazing statues, but they're recent partnership with TORCH TORCH has brought us an amazing lineup of accessories from the Dark Souls franchise. Kicking it off, we have the Covetous Silver Serpent Ring, made of 925 sterling silver and lead glass. Next up is the Catarina Helm Necklace and Catarina Helm Earring, both made from pewter with a creamy antique coating. The Ring of Steel Protection is next, making its appearance in all the entries. From Dark Souls II and III we get the Silvercat Ring. And finally exclusively from DSIII, we get Havel's Ring, named after Havel the Rock. There's no denying that this lineup is incredible, and while it might not make the games any easier, they'll sure make you look cooler!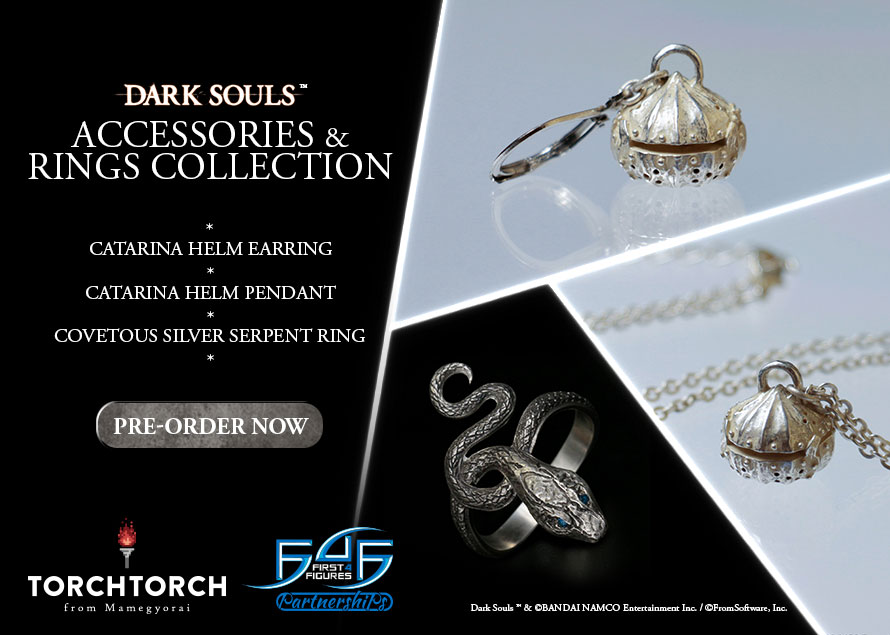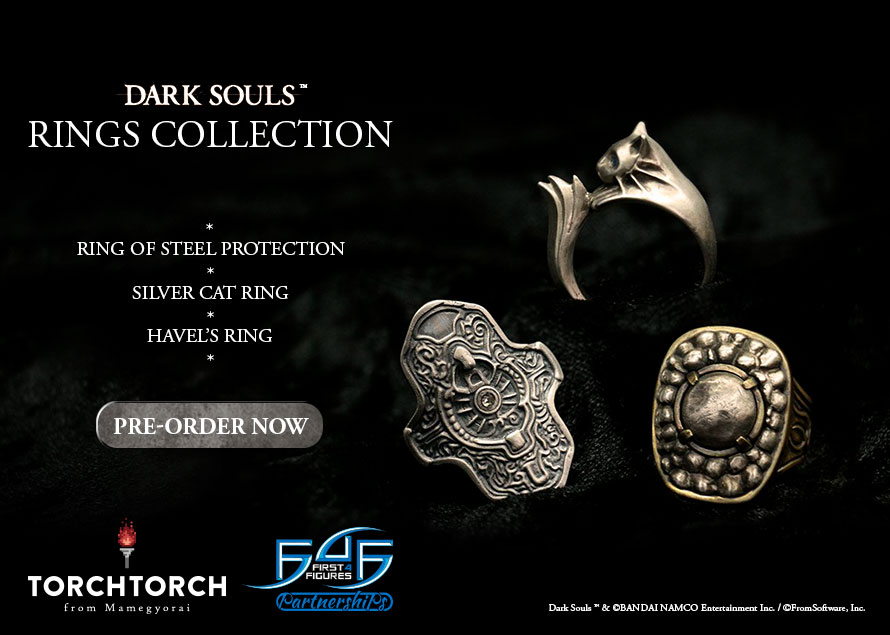 KIRBY – PREMIUM RING SET
And speaking of jewelry, Ensky has just put out 2 awesome Kirby Premium Rings for pre-order, which will run throughout the month of September. This is a follow up to the previously seen pendant which was released to commemorate Kirby's 25th anniversary. The first ring is of Kirby, cast in pink gold and accented with pale blue Cubic Zirconia.  The second is Meta Knight, who's silver band is accented with blue jade.  Each one costs a reasonable 15,000 yen ($150) and is available in a variety of sizes.
HALO – REVELL MODEL KITS
Model giant, Revell, has just released their first wave of Halo Snap-Tite kits on September 1, and they're awesome. First off, we have a 1/32 scale Halo UNSC Warthog model kit. And the second entry, a 1/100 scale UNSC Pelican. Both vehicles look pretty awesome, but the Pelican is clearly the better of the two. The Snap-Tite kits have received a lot of critique in the past for their simplicity and 'impurity' amongst die-hard model fans, but lately their quality has skyrocketed. I'm not huge on the Halo merchandise – but these may be an exception!
THE LEGEND OF ZELDA – CHRISTMAS ORNAMENTS 4-PACKS
Christmas is still several months away, yet two new 4-pack Zelda ornaments have already been made available for pre-order at EB Games Canada. The first of these packs contains 4 'Symbol' ornaments, while the second is specific to Breath of the Wild. The packs cost $19.99 each and are expected to release on November 1.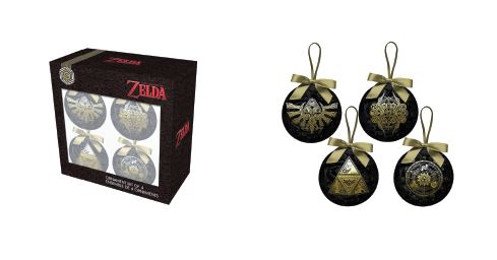 FALLOUT 4 – DARKWAREHOUSE STONE SLAB ART
DarkWarehouse isn't a company I'd heard of previously, but I'm glad I stumbled across it! They specialize in "visual tactile art", which essentially translates to artwork on unique stone slabs. Their recent announcement
of diving into the video game scene has left me drooling, and what better way to start than with a partnership with Bethesda. Check out these Fallout 4 pieces!
SHOVEL KNIGHT – SHOVEL KNIGHT TREASURE TROVE AMIIBO 3-PACK
Amiibo news!!!! And not just any Amiibo – Shovel Knight Amiibo!! We'd seen Shovel Knight hit the lineup a while back – but this time Plague Knight, Specter Knight, and King Knight join the fray in the Shovel Knight Treasure Trove 3-pack. Each piece offers exclusive armor sets (cosmetic only), new Challenge Stages and the ability to summon fairy companions in the Nintendo Switch, Wii U and 3DS versions of Shovel Knight
STREET FIGHTER V – RAINBOW MIKA S.H. FIGUARTS
Tamashii Nations has posted the pre-order page for the Street Fighter – S.H. Figuarts Rainbow Mika (aka R. Mika). In Japan, the figure will be a Bandai Premium Web Exclusive and Bluefin will likely handle the figures release in North America. The R. Mika figure will include two interchangeable facial expressions, multiple interchangeable hands, a microphone, a set of effects pieces and a Street Fighter stage diorama backdrop. Standing at 5.7″ tall, this will go perfectly with the Ryu figure.
NINTENDO – BUMKINS BABY LINEUP
Bumkins, known for their variety of baby products, has collaborated with Nintendo to create a new collection of Nintendo-themed products. From bibs to teethers to snackbags, these products are officially licensed and perfect for babies aged from 6-24 months. The themes range from Super Mario Bros. to the NES gamepad and Game Boy to (my personal favourite) The Legend of Zelda.
GEARS OF WAR 4 – MARCUS FENIX MCFARLANE TOYS ARTICULATING FIGURE
Since the release of the game, McFarlane Toys has released multiple characters as part of their Color Tops Collection. Earlier figures were very statue-esque in design. With their newest release, Marcus Fenix, fans get a figure that is much closer to what they have been looking for. The figure includes over 14 points of articulation, a Customized Lancer Assault Rifle and Snub Pistol sidearm.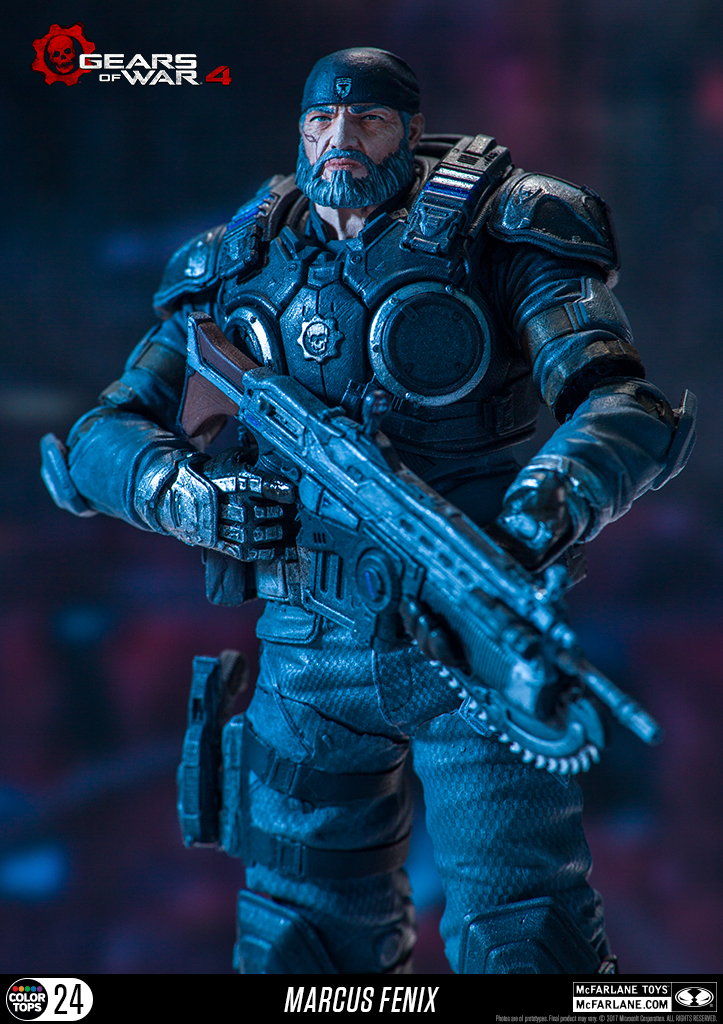 THE LEGEND OF ZELDA – CHRISTMAS ORNAMENTS 4-PACKS
PDP's lineup of Pixel Pals are well known in the collecting community. Pixel-art renditions of your favourite iconic characters which light up with the help of a few AAA batteries. Well this week, #25 and #26 went up for pre-order. Both are of the Legend of Zelda protagonist, Link – one donning his White Tunic (courtesy of the Blue Ring), and the other, his Red Tunic (courtesy of the Red Ring). These are perfect figures to go alongside the standard Link which was released way back as #8 in the lineup.
BIT.TRIP RUNNER – T-SHIRTS
You may remember our previous Fangamer announcement with the official Windjammers collection. Well now they're back, this time with 2 unique BIT.TRIP Runner tees designed by Jon Kay. The first is the green Hyper Dash design and the second, an orange Retro Runner design which harkens back to the old Activision Atari boxes. Both come in ladies and unisex, with sizes up to 6X, so if you're looking to beef up your BIT.TRIP collection, these are both awesome items to have.
BIOSHOCK – BIG DADDY AND LITTLE SISTER THREEZERO FIGURES (1/6 SCALE)
A brief post by ThreeZero reveals that the have acquired the license to create collectibles based on Bioshock, the original title in the hit video game series by 2K and Irrational Games. The first two figures announced are a Big Daddy and a Little Sister 1/6 Scale Figures. No additional details are available at this time.
POKEMON: SUN / MOON – LILLIE & SNOWY (ALOLA VULPIX) G.E.M. SERIES
Lillie from "Pokemon Sun and Moon" joins the Pokemon G.E.M. series! With a big smile on her face and a skip in her step, Lillie's pose is warm and energetic. She comes wearing her elegant white dress and big sun hat, and is accompanied by her Alola Vulpix, Snowy. As of this week, you can order this adorable pair today!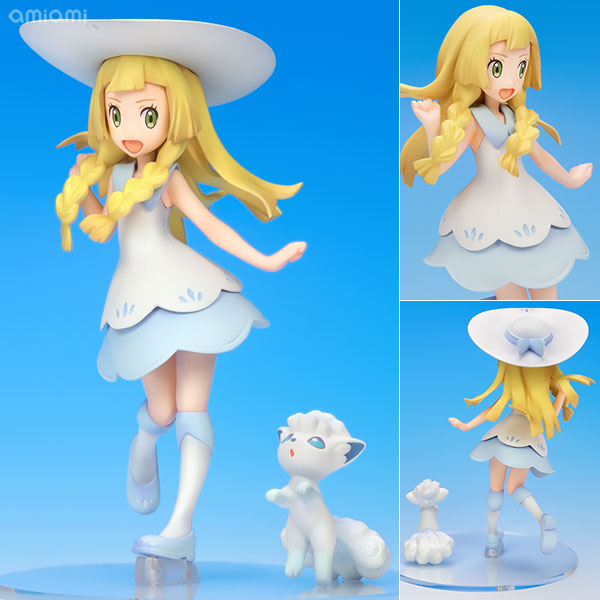 THE LEGEND OF ZELDA – ZELDA BACKPACK BUDDIES
Paladone is releasing a new wave of Zelda Backpack Buddies! While the previous set consisted of 2D artwork keychains, the new set will have 3D figures and items, of which the Hylian Crest is to be a "limited chaser figure". The new Backpack Buddies are to be released worldwide and expected to hit Europe next month.
FATE/GRAND ORDER – MORDRED (SABER) FIGURE
Di Molto Bene recently announced that their Fate/Grand Order: Mordred (Saber) figure will be on pre-order soon. This 23cm figure is made from the usual PVC/ABS and is priced at the usual $140 pricepoint. Release date is currently scheduled for December 2017.
FATE/EXTELLA – COLOR COLLE LINEUP
Directly from the action game Fate / EXTELLA: The Umbral Star, Movic presents us with a collection of figurines dedicated to several of its characters. This is the newest addition to its 4cm Color Colle lineup, and they look great! The 8 figures include Gilgamesh, Saber Extra, Caster Extra, Karna, Archer, Lancer, Attila and Archimedes.
Well there you have it, folks. Lots of gaming goodness to enjoy for all the memorabilia collectors out there. Have you been keeping up to speed with the Pixel Pals lineup? Can see yourselves shelling out the extra cash for Nintendo-themed baby supplies? Would you consider proposing with video-game merchandise like the Dark Souls or Kirby sets? I want to hear all that and more, right here!
Until next week guys, keep on gaming!