It's Monday! And that means it's time for your weekly dose of all the great Gaming Memorabilia news from this past week.
This week has been pretty slow on the merchandise front. New York Comic Con is right around the corner, and most of the Exclusives have already been revealed in previous entries. Even so, Pokémon continues to capitalize on Ultra Sun and Ultra Moon with its obscene amount of collectibles. Thankfully, franchises like Kingdom Hearts, The Legend of Zelda, Soul Calibur, Mario, Kirby and Cuphead help break it up. Hope you guys enjoy!
THE LEGEND OF ZELDA – ENCYCLOPEDIA
Dark Horse is bringing its third compendium of Legend of Zelda lore to bookshelves next year with the English edition of The Legend of Zelda Encyclopedia. It covers the series from 1986's first game through Twilight Princess HD, which launched in 2016 on Wii U. The Encyclopedia is the third and last book in a series comprising it, 2013's Hyrule Historia, and Art & Artifacts, which released in February of this year. The 320-page book compiles entries for enemies, items, potions, concept art, screencaps, maps, characters, language and more, Dark Horse said in a news release. It also features an interview with Eiji Aonuma, the producer of Legend of Zelda.
SOUL CALIBUR II – TAKI "FIRST4FIGURE" STATUE
First 4 Figures has just announced the newest addition to their onslaught of gaming statues. Taki from Soul Calibur II. Taki is an orphan who was raised in the Fu-Ma Ninja clan under the care of its headmaster, Toki. With being recognized as a ninja, Taki is known for her speed and agility on both her attacks and movements. The figure comes in 2 versions; the standard one and the Exclusive, which includes a much more elaborate base. Trust me, this one WILL sell out fast – so get your wallets ready. It's $450.00.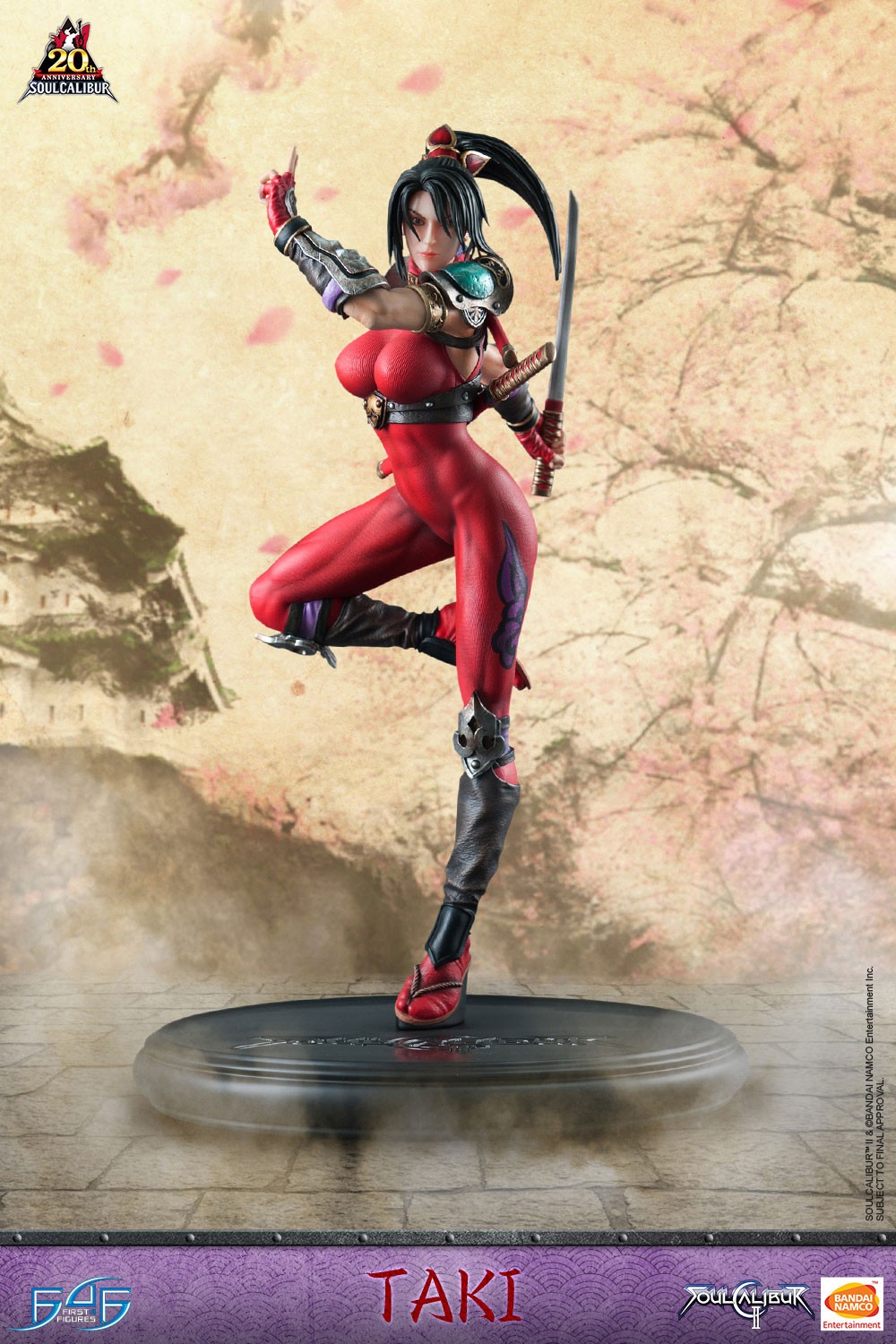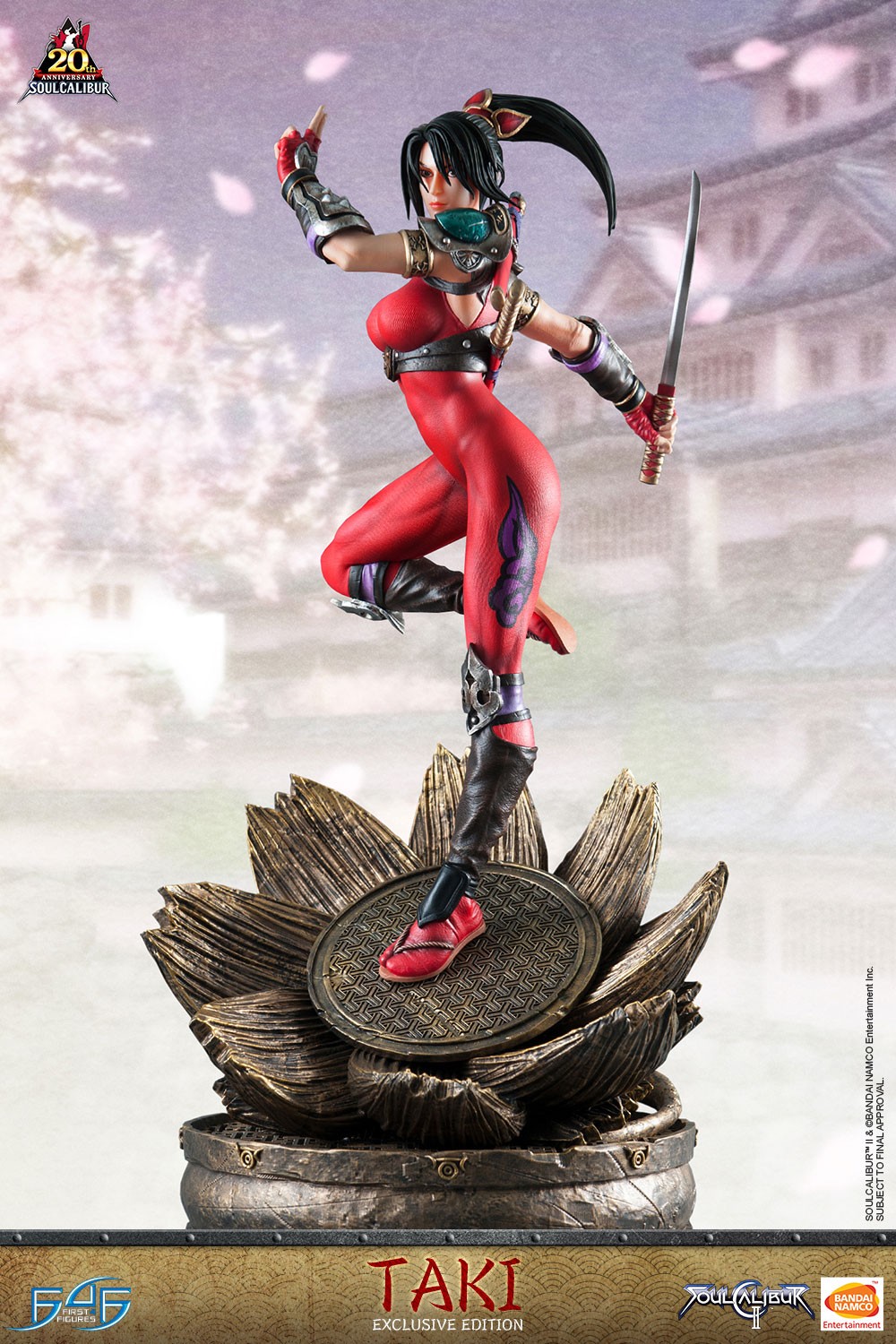 POKÉMON – HIROSHIMA TOYO CARP x POKÉMON CENTER
The Pokemon Company has announced yet another round of Pokemon Center Original merchandise in collaboration with the Hiroshima Toyo Carp, a baseball team based in Hiroshima. Since there's a "Carp" in the team's name, Magikarp will be appearing as the team's Pokemon merchandise mascot. This will include a variety of t-shirts and accessories all dedicated to everyone's favourite monster-collecting franchise.
SUPER MARIO ODYSSEY – A4 CLEAR FILE PRE-ORDER BONUS
Living in Japan and planning to pre-order Super Mario Odyssey? Perhaps you want to drop by your local Yodobashi Camera store! Yodobashi Camera Yokohama is offering a special A4 clear file with every pre-order of Super Mario Odyssey. It's unclear whether the promotion is exclusive to this particular outlet, but we're sure you can't get this by pre-ordering the game online.
KIRBY – RE-MENT KIRBY CAFÉ TIME COLLECTION
Candy toy maker Re-Ment has released a new image featuring the Kirby Cafe Time collection. The Kirby Cafe Time collection launches on December 11, 2017 in Japan. It comes with 8 boxes of figurines which, when completed, will form a full "Kirby Cafe". Each box contains a soda candy sweet. These guys are well known for their Pokémon releases – but don't often dive into the Kirby franchise.
KINGDOM HEARTS – MYSTERY MINI VINYL FIGURES
Some of your favorite characters from Disney's hit videogame Kingdom Hearts are now featured as Mystery Minis! This series features Mickey, Roxas, Axel, and Riku in organization 13 cloaks – used to safely pass through darkness. Also, Chip & Dale, Goofy, Donald, Mickey, Sora and many more! Also, be sure to keep your eye out for Pete, Large Body Heartless and Soldier Heartless which are exclusive to Gamestop; Tron Goofy, Tron Donald and Tron Sora which are exclusive to Toys "R" Us; and Halloween Goofy, Halloween Donald and Halloween Sora exclusive to Hot Topic!
KINGDOM HEARTS – POP! VINYL FIGURES (SERIES 2)
Also from Funko comes the brand new series of Kingdom Hearts characters. This series features the Keyblade Sora and his best friends Kairi and Riku! Rounding out the series comes the dangerous enemy, Heartless! Look for the glow chase of Heartless. A rarity of 1-in-6! Also, be sure to stop by Best Buy for the exclusive Final Form Sora, and Toys "R" Us for the exclusive Brave Form Sora.
POKÉMON ULTRA SUN / ULTRA MOON – Z-POWER RING SET AND Z-CRYSTALS
Takara Tomy is releasing a brand new Z-Power Ring accessory to coincide with the launch of Pokemon Ultra Sun and Ultra Moon worldwide. Besides the Z-Power Ring, the company is releasing a Z-Crystal Board and 3 new sets of Z-Crystals in Japan. The set comes with a Z-Power Ring, which can be connected to your Nintendo 3DS while playing Pokemon Ultra Sun or Ultra Moon, as well as 4 Z-Crystals, Z-Power Collector's Board, and finally a special Ash Pikachu Pokemon Gaore card. Next up is a Z-Crystal Collector's Board. This is different from the one that is included with the Z-Power Ring Set, as this collector's board won't fit Z-Power Crystals but ordinary ones instead. Now it's time for some new Z-Crystals. The first set is the Satoshi/Ash Set. The Crystals included in this set are Electric Z, Normal Z, Decidueye Z, Incineroar Z, and finally Aloraichium Z. The second volume of Z-Crystals is called the Rotom Pokedex Set. It comes with Steel Z, Psychic Z, Bug Z, Pikachu Z, and Marshadow Z. Finally we're down to the third volume of new Z-Crystals. This set is called Lana & Lillie set. The set comprises of Fairy Z, Ice Z, Eevee Z, Mew Z, and Primarina Z.
STREET FIGHTER II – TOYS "R" US NEW YORK COMIC-CON 2017 EXCLUSIVES
Next week is New York Comic-Con 2017 and Toys R Us has announced their exclusives for the show. They will be in attendance at Booth #110, showcasing upcoming collectibles as well as selling these exclusives. Not much on the video-game front – with the exception of these two Street Fighter II variants. First we have Storm Street Fighter M Bison in his green outfit. And second, Storm Street Fighter Ken in his black attire. Be sure to stop by to try and pick these up!
SUPER NINTENDO – FOREVER 21 CLOTHING LINEUP
Fashion retailer Forever 21 has just announced the launch of a limited-edition Super Nintendo capsule collection. The 16-piece capsule will see classic titles like Super Mario World, Super Metroid, Super Mario Kart and The Legend of Zelda adorned on its loungewear. Pieces include T-shirts, bodysuits, anoraks, and hoodies for girls, juniors, and men. The Forever 21 Nintendo Collection will launch on Forever21.com and in stores globally on September 29 and, to celebrate the launch, F21 is giving away two Nintendo Super NES Classic Edition Consoles.
CUPHEAD – CUPHEAD, MUGMAN AND THE DEVIL POP! VINYL FIGURES
The run and gun platform side scrolling video game Cuphead is now available exclusively on console for Xbox One, as well as Windows 10 PC, Steam and GOG, and Funko is excited to introduce Cuphead Vinyl figures too! This series features Cuphead and Mugman as they battle to repay debts to the Devil! Each figure stands roughly 4" tall! The Devil is featured as a 6″ collectable Vinyl figure. Also, for the last exclusive for NYCC 2017 – a 2-Pack of Cuphead and Mugman, featured in black and white!
POKÉMON – MOCCHI MOCCHI PLUSHIES
Takara Tomy is releasing a brand new lineup of Pokemon Mocchi Mocchi plushies on October 26, 2017. Mocchi Mocchi plushies have an oval shape and are the perfect plush to squeeze like a stress ball. This lineup includes Pikachu, Snorlax, Psyduck, Marill, and Bewear.
Well there you have it folks. A pretty slow week, but not without its charm. I'm personally really excited to get my head on the Cuphead vinyl figures. How about you? What are you most excited about here? Are you gonna be picking up some new gaming apparel? Planning on making it to New York Comic Con 2017? Are you a hardcore enough Soul Calibur II fan to drop $450 on the Exclusive Taki figure? Let me know all the and more right here!