Kicking off 2018 with the rebirth of Merchandise Monday's….sort of.
Instead of the weekly updates that used to hit the Blogs each Monday, this new flavour will instead recap the entire month with some of my favourite merch announcements. I'm also trying out a new style so you guys can easily browse through and check out the items that interest you the most!
January was a great month for unique collectibles – mainly of the figure variety. The usual post-Christmas slump didn't seem to affect 2018, and there's a lot here that I'm drooling over. I really hope you guys find something of interest too. If you do, I'd love to hear your thoughts over on the Cartridge Club forums!
As always, thanks for reading!
Figures & Statues
Alien --- Alien Isolation Minimates Set
Diamond Select Toys has revealed a series of Aliens Minimates. The new assortment, which is a Toys R Us exclusive, cover Minimates figures from Alien 3, Alien: Resurrection and most importantly for this blog, Alien: Isolation. The set contains Amanda Ripley with the Isolation Xenomorph
Bioshock --- Bioshock 2 Subject Delta and Little Sister 1/6 Scale Figure
Last year, ThreeZero revealed their first Bioshock 1/6 Scale Figures. That Big Daddy and Little Sister set will be released this Spring. The license continues with another announcement, this time, with a set from Bioshock 2! They have released a preview photos of their Bioshock 2 – Subject Delta and Little Sister 1/6 Scale Figures.
Dark Souls --- Dragon Slayer Ornstein
First4Figures announced this month that they'll be continuing with their Dark Souls line, this time introducing Dragon Slayer Ornstein to the mix. As with most releases, there's a special "Exclusive Edition" for the hardcore collectors. In this statue's case, it comes with an additional arm with Dragonslayer Spear, and lightning effects with LEDs.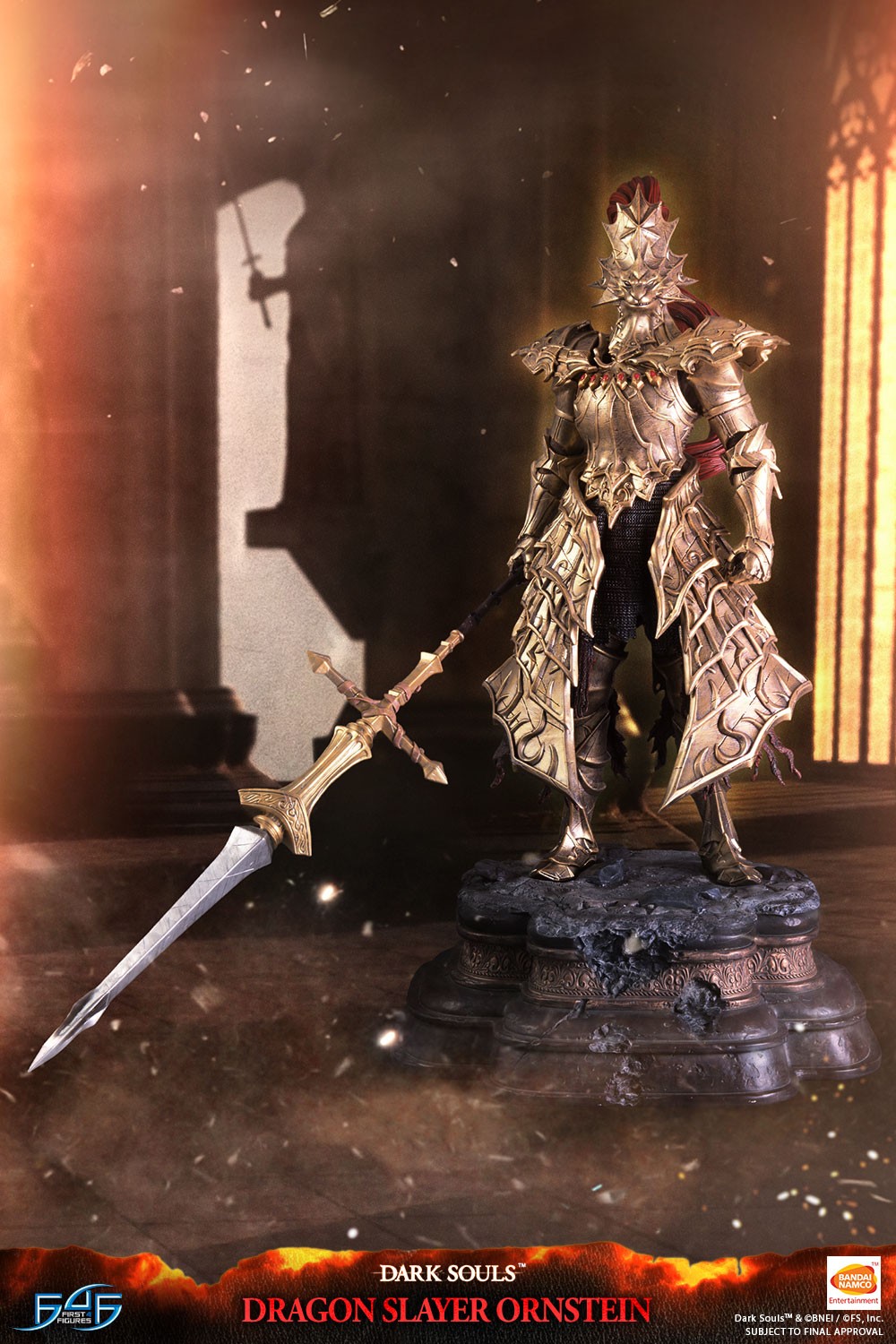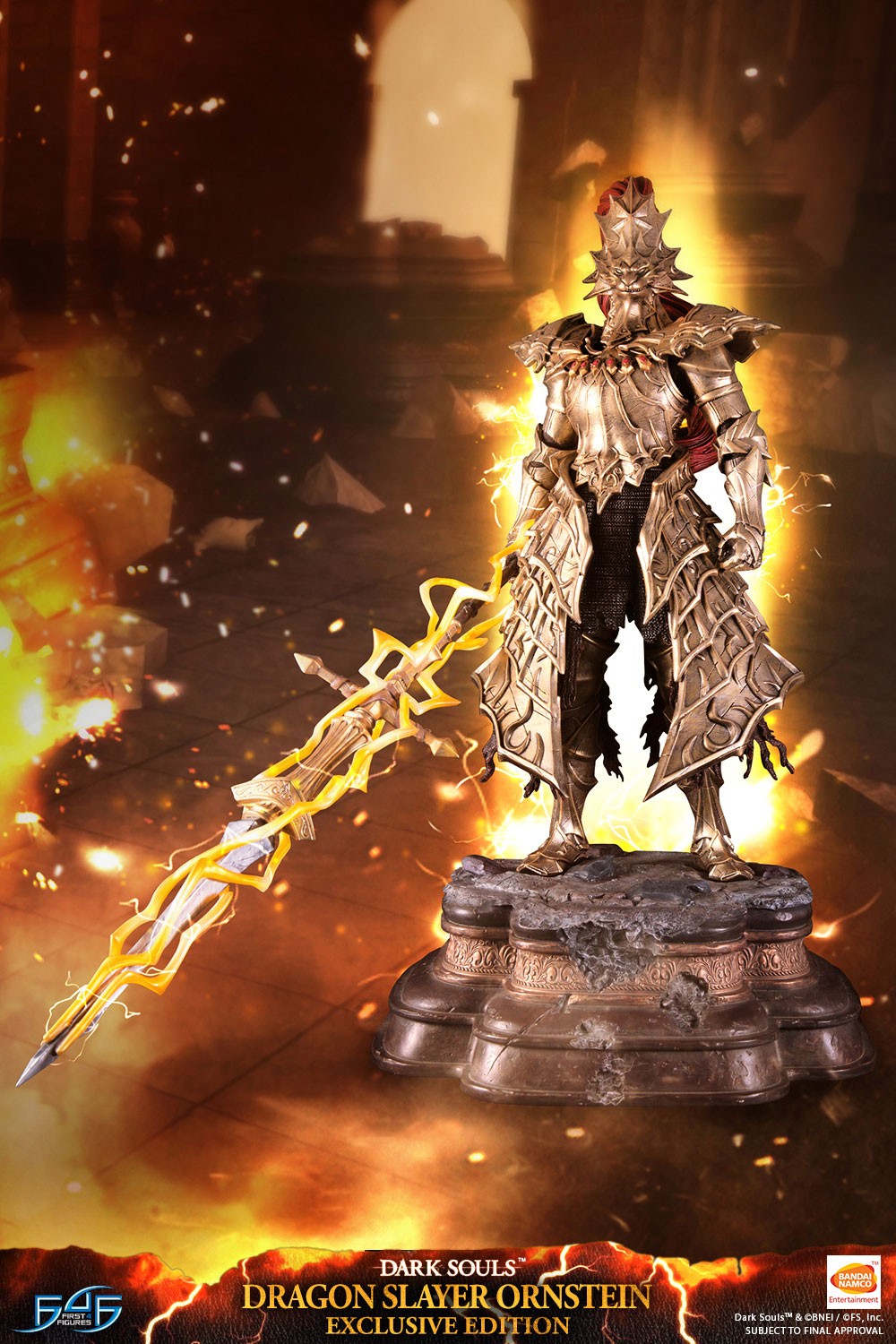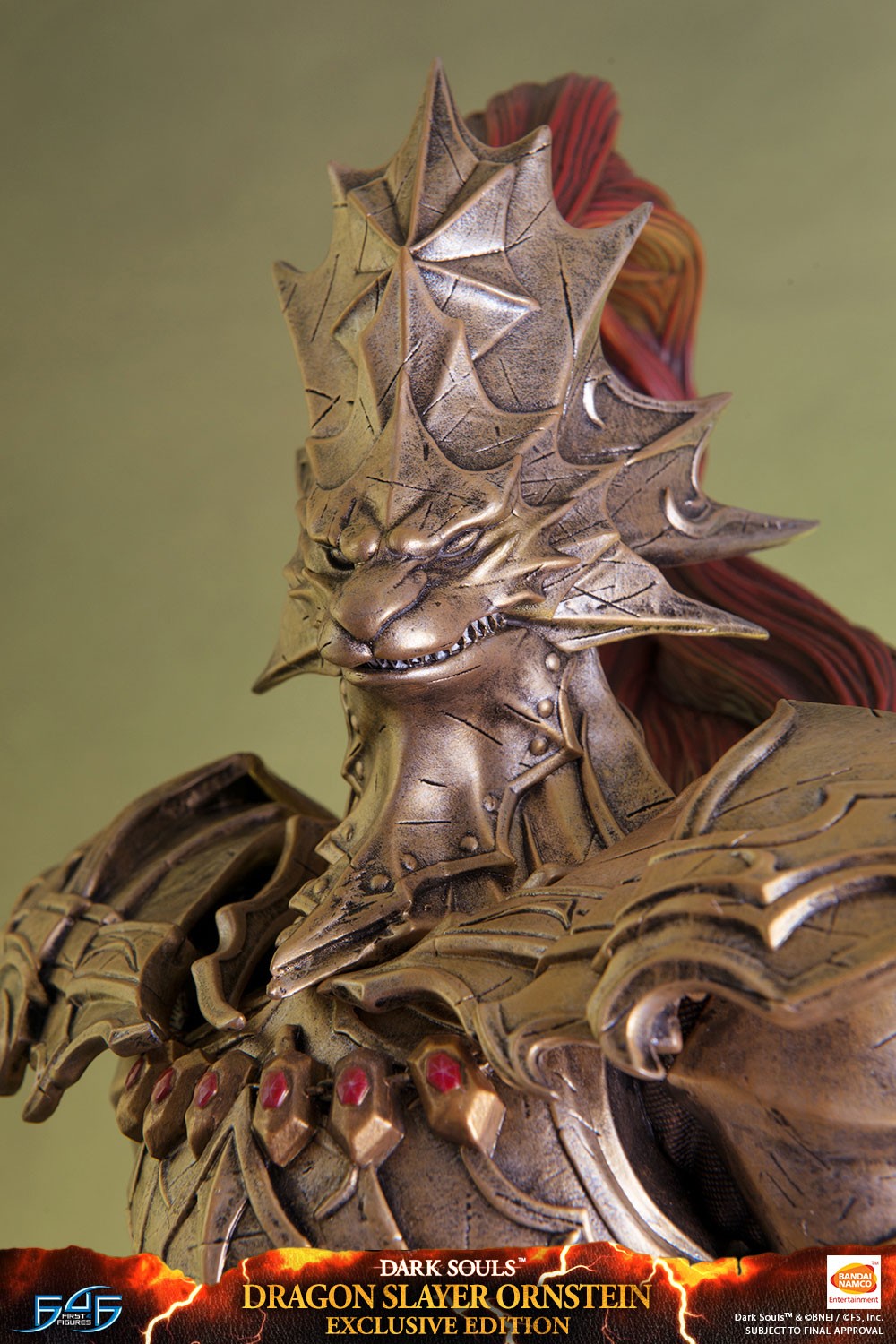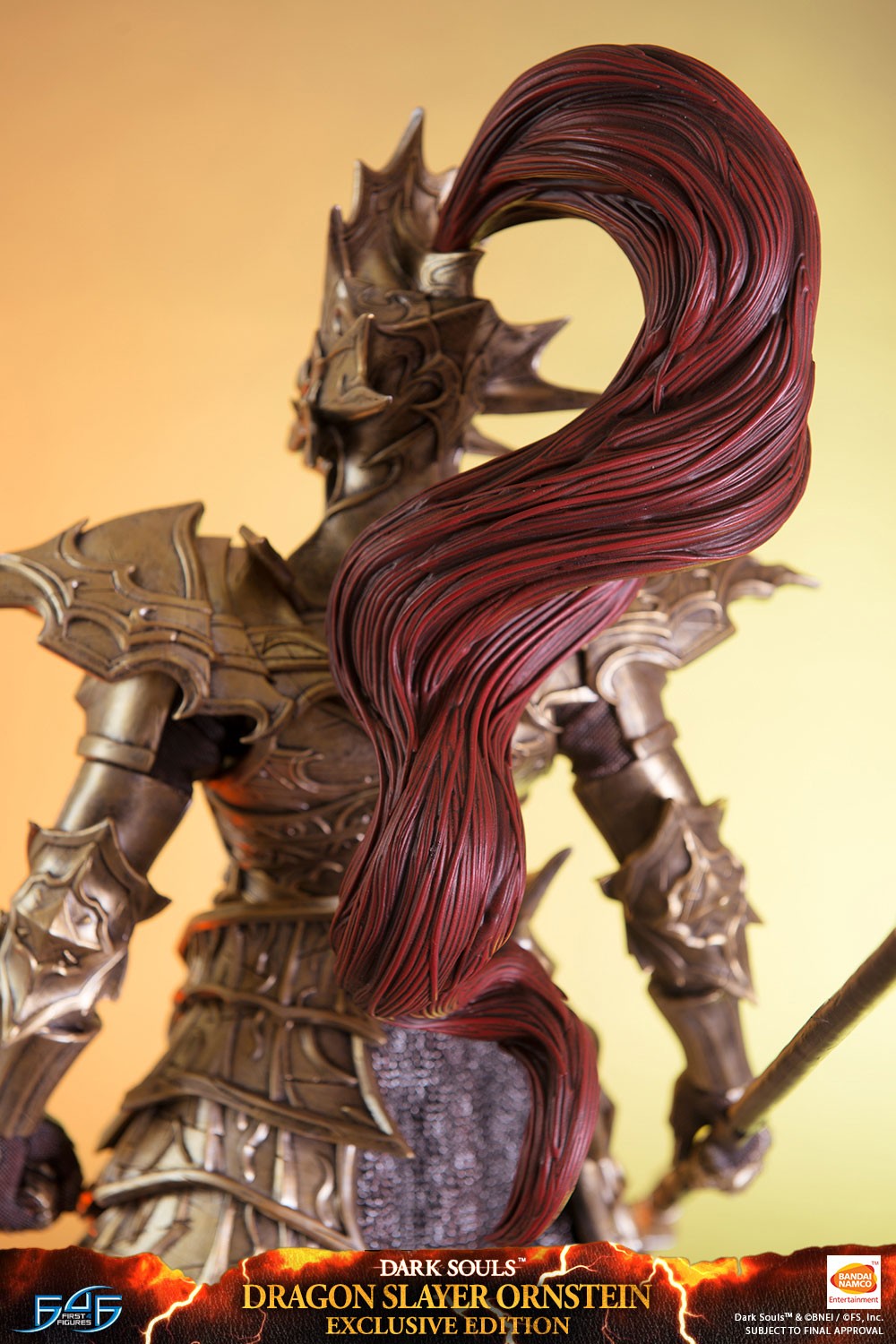 Dead or Alive --- Kasumi Figma Figure
Good Smile Company has posted the product page for their upcoming Dead or Alive Kasumi Figma. The figure stands just over 5″ tall, includes two interchangeable portraits, interchangeable hands, a sword, and a sheath. Also included is an articulated figure stand. It's due for Japanese release in July and is priced at 7,222 Yen (about $66 USD).
Doom --- Doomguy Collectible Figures
If you played the fantastic Doom reboot from 2016 or the new (and also excellent) Doom VFR, you've no doubt come across the Doomguy Collectible Figures. These figures are hidden throughout the games, and finding them helps to unlock bonus content for the games. In Doom 2016, there were 26 Doomguy's to collect, each in a different color. Collectible company Gaming Heads has shared a preview for their upcoming Doomguy Collectible Figures. They look to be life size replicas of the mini figures from the game. The first three shown come in the standard green of the Praetor Armor, a red white and blue version, and a pink and gray version.
Dragon Quest --- Dai Jump 50th Anniversary Figure
Coming directly from the Manga, Dragon Quest: Dai no Daiboken (also known as The Adventures of Fly), Banpresto presents a very special tribute figure for the 50th Anniversary of Shonen Jump. The box of this figure is also special because it mimics tehe exclusive cover of the Shonen Jump magazine. If you're a fan of Dragon Quest, or even better, read the Manga – then this is an AWESOME figure for your collection.
Fate / EXTELLA --- Nero Claudius -Rose Vacance ver. - 1/8 Scale Limited Noble Phantasms Spec
Another Fate / Extella release, this time Funny Knights presents us with this new version of Nero Claudius exclusive to the Wonder Festival 2018 Winter. This variant is 'very' close to the original, sharing the scame sculpt and coloring, but instead of a Rose, this one comes with Aestus Estus: The Original Flame, a scarlet long sword usually wielded by her.
Fate / Grand Order --- Rider / Marie Antoinette 1/7 Scale Figure
Directly from the popular smartphone game, Fate / Grand Order, Good Smile Company presents this beautiful 1/7 scale figure dedicated to the Rider, Marie Antoinette. This figure, sculpted by b-full (PUSAN Kamome), stands at 27.5 cm and is sculpted from ABS and PVC. Pre-orders are up now for a late June release.
Fate / Grand Order --- Ruler / Jeanne d'Arc 1/7 Scale Figure
Directly from the popular smartphone game, Fate / Grand Order, Good Smile Company presents this beautiful 1/7 scale figure dedicated to the servant Ruler, Jeanne d'Arc. This figure, sculpted by KIMA (LISASAYS), in collaboration with Kataharaitashi, stands at 23.5 cm and is sculpted from ABS and PVC. Pre-orders are up now for a late February release.
Final Fantasy --- Bahamut Bring Arts Figure
A new listing on Amazon Japan gives us a look at the upcoming Bring Arts Final Fantasy Bahamut Figure by Square Enix. Also known as The Dragon King, the figure is based on one of the popular Summons from the Final Fantasy Series. It features a fully articulated creature along with a crystal effects piece that can act as a base for the figure. Bahamut stands nearly 10″ tall, with a wingspan of over 18″ wide.
Final Fantasy --- Final Fantasy Dissidia Vincent Valentine and Terra Branford Play Arts Kai Figures
Square Enix has released photos and details for two upcoming Dissidia Final Fantasy Play Arts Kai Figures. The new figures include Tina Branford from Final Fantasy VI (Terra in the North America version) and Vincent Valentine from Dirge of Cerberus: Final Fantasy VII. The Tina figure stands at 9.7″ tall. She includes interchangeable hands, a sword, a knife, and a figure stand. Vincent Stands at 10.8″ tall. He will include interchangeable hands, a rifle, a pistol, and a figure stand.
Kirby --- Big Size Kirby Eraser Figures
Following the release of the adorable big size Pokemon Eraser Figures, Re-Ment is making a new lineup of big size Eraser Figures for Kirby and friends. There are a total of 8 different figures to collect, and each 35mm tall figure comes with its own piece of candy. The figures are: Kirby (Warpstar), Kirby (Dash), Kirby (Maxim Tomato), Kirby (Hovering), Kirby (Parasol), Waddle Dee, Kirby (Star Rod), and finally Meta Knight.
Kirby --- Waddle Dee Collection
In September 2017, KIDDY LAND stores held an event to commemorate Kirby's 25th anniversary where they held a voting competition for the most popular enemy in the game. The winner would eventually be turned into merchandise. The results finally came in, and Waddle Dee was chosen as the victor.
Maitetsu: Pure Station --- Hachiroku 1/6 Scale Figure
Straight from the PS4 title, Maitetsu: Pure Station comes this 1/6 scale figure of Hachiroku. Great detail, as fans have come to expect from Lose – and a removable hat! The ABS/PVC piece stands at 20cm and is scheduled to hit store shelves at the end of July 2018. If you're a fan of Maitetsu, or just Japanese figures in general, this is a pretty nice one to grace the collection.
Mega Man 11 --- Roll and Rush Nendoroid
From Mega Man 11, the latest upcoming game in the Mega Man series made to commemorate the 30th anniversary, comes a Nendoroid of Roll in her new costume! She comes with three face plates including a standard expression, an upset expression and a proud smiling expression. In addition a Nendoroid sized version of Mega Man's reliable companion Rush is also included, based on the original designs illustrated for the new game! Roll also comes with her cleaning device and an E Tank as optional parts to display with her. We hope you'll look forward to this cute Nendoroid of Roll together with the upcoming game!
Metroid --- First4Figures' Varia Suit Samus
First4Figures became popular through their Metroid figures, so it's only natural that they return to the lineup with Varia Suit Samus.  Instantly recognizable from games as far back as the original Metroid game on the NES, the Varia Suit has remained a series mainstay, and is here depicted as it was seen during Metroid Prime 2: Echoes. Captured in a stunning ¼ scale in hand-painted polystone, Samus measures an awesome 20 inches tall, standing upon a base inspired by the series insignia. The Exclusive Version has LEDs that have been integrated throughout the entire statue, bringing it to life exactly as seen in the games.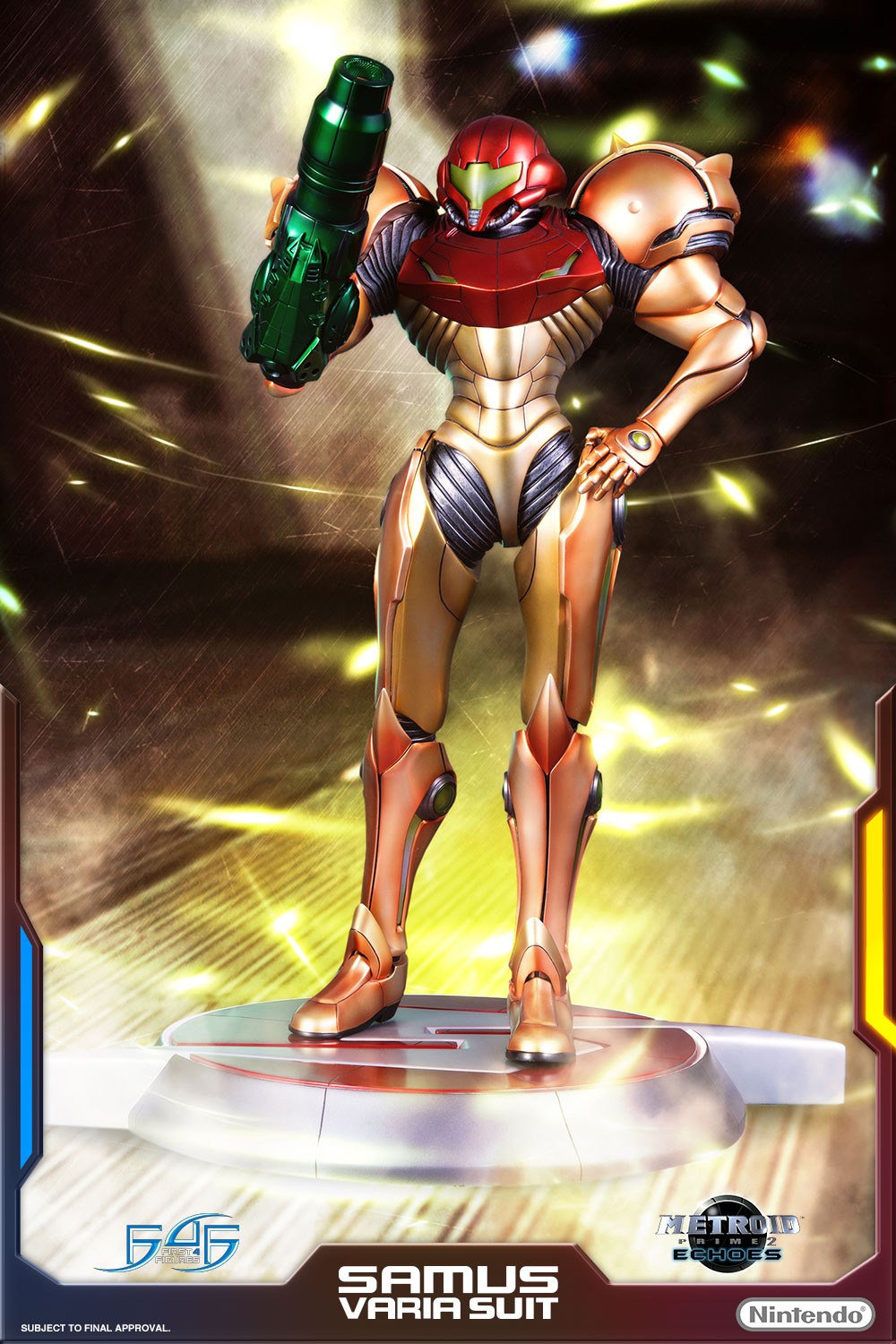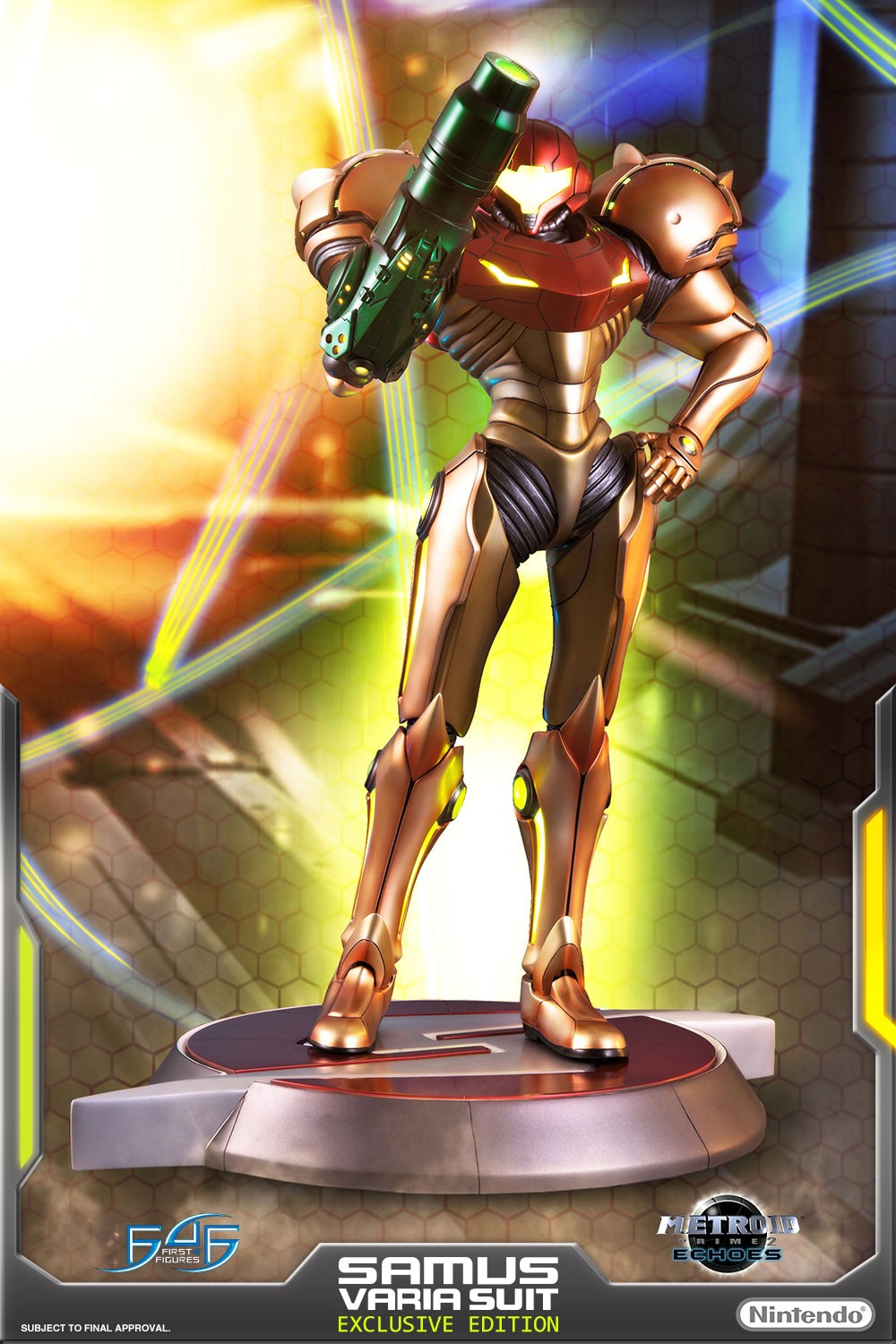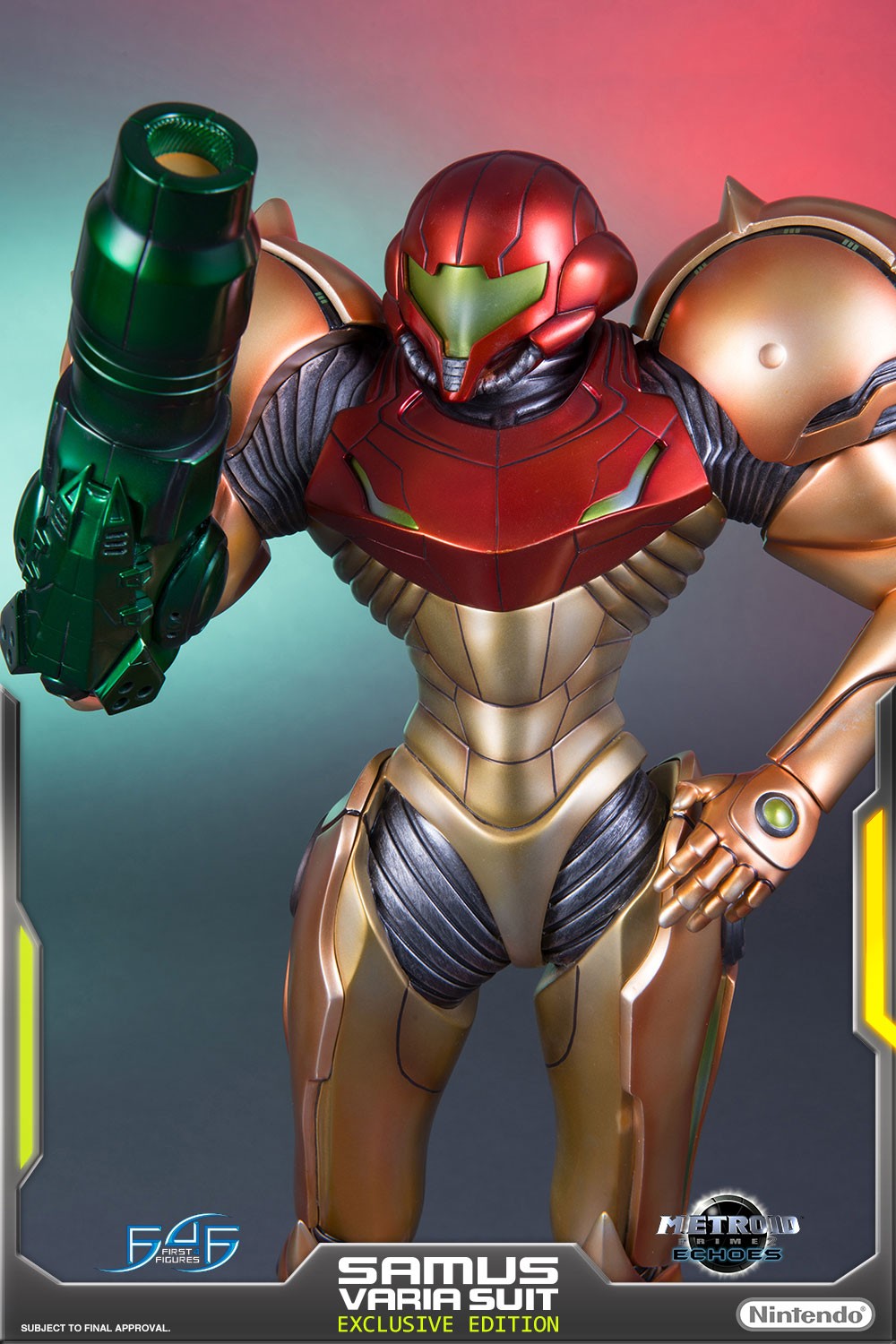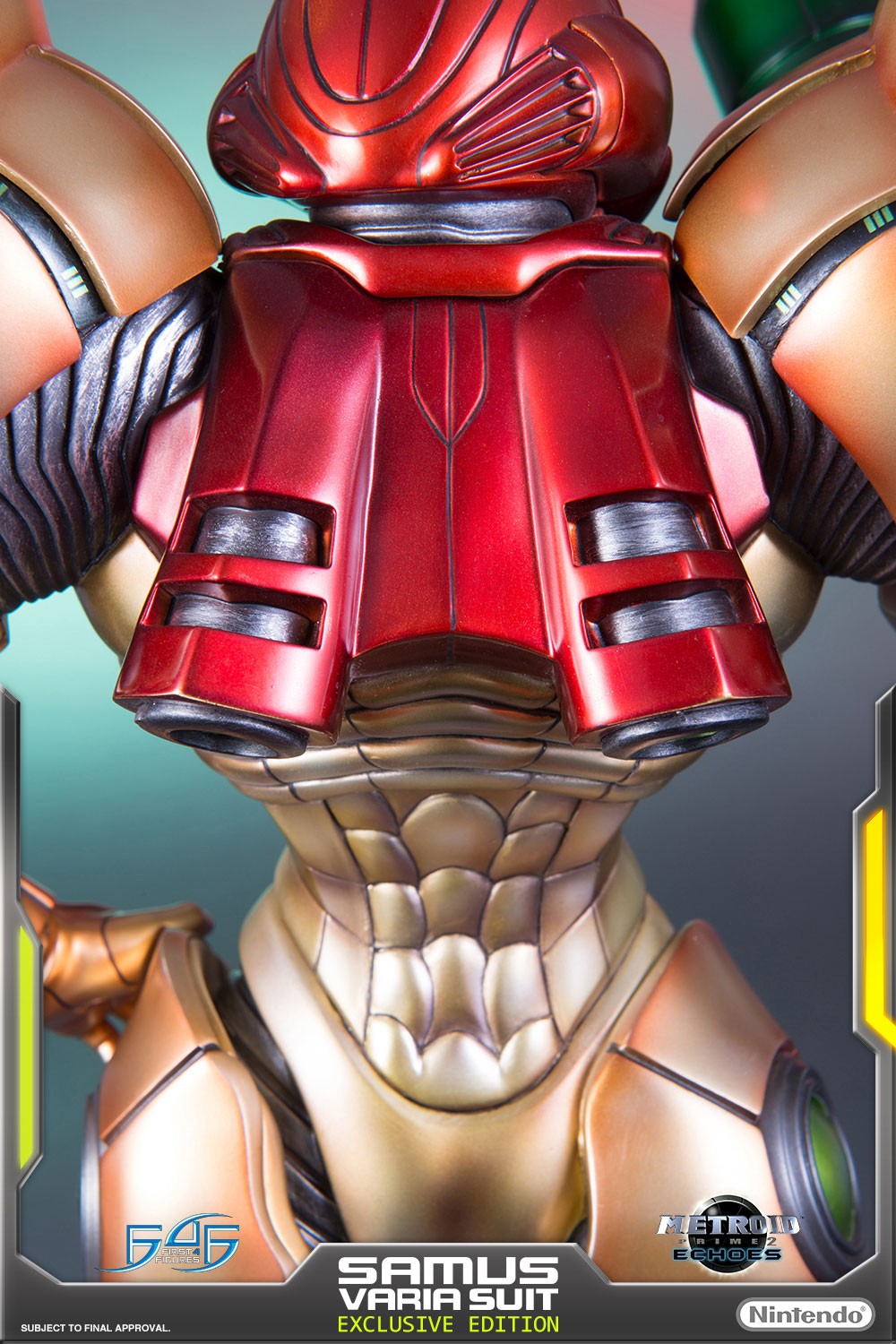 NieR: Automata --- Trading Arts Mini Figures
Square Enix is adding even more awesome figures to their Trading Arts Mini figure line, this time from NieR: Automata. This linuep includes 10 figures in the series including 2 versions of each – YoRHa No.2 Type B (2B), No. 9 Type S (9S), No. 2 Type A (2A), Operator 2010 and a Machine Lifeform. Each entry stands at 3.6cm and are scheduled to hit hobby store shelves this may.
Otocadoll --- Maou Rushiko 1/1 Scale Figure
Directly from the arcade game, Otocadoll, Alter shares the first official images of the 1/1 scale figure dedicated to Maou Rushiko. I don't know much about this game, but I love Alter, particularly their Odin Sphere lineup. This one comes complete with her Star Ruby Rod, which will likely be one of the most colorful pieces on your shelf. The figure stands at 24cm in height and is on pre-order now!
Persona 5 --- Futaba Sakura Kaitou ver. 1/7 Scale Figure
From the role-playing game 'Persona 5' comes a 1/7th scale figure of the genius hacker who joins the Phantom Thieves – Futaba Sakura! This is a close follow up to the upcoming Ann Takamaki figure this February. The PVC figure sits at 23cm in height and is scheduled to hit store shelves in Q4 2018.
PlayStation --- Totaku Figure Lineup
PlayStation Amiibo!!! Well…not really. But close. Rather than the revolutionary NFC hotcakes that Nintendo is pumping out, these figures from Totaku are just glorified figurines. Each stands at 10cm tall and will hit store shelves worldwide on March 23, 2018 for $9.99 USD each. Characters in the first wave include Sackboy, Feisar FX350, Crash Bandicoot, Heihachi Mishima, The Hunter, and Parappa. The bases of each Totaku are shaped like a cross so you can interlock the bases of different characters together.
Pokémon --- Austrian McDonald's Happy Meal Lineup
McDonald's Austria has kicked off the new year with a brand new lineup of Pokemon toys. Each Happy Meal purchase comes along with one free toy. The Pokemon that can be caught include Pikachu, Poppilo, Eevee, Rowlet, Squirtle, Meowth, Litten, and Psyduck. The toys come with 1 of 3 random Pokemon TCG cards too.
Pokémon --- Sylph Company PokéBall Collection
For fans of Pokémon, you'll no doubt recognize the name Sylph Co. from all the way back in Generation 1. Bandai is taking that nostalgia and transforming it into an official Pokéball Collection. Hard to explain, so best just to enjoy the photos below.
Rampage --- Rampage Movie Official Lanard Figure Set
Debateably a piece of "video game" merch, these figure sets are being manufactured by Lanard Toys, the same guys behind the Kong: Skull Island figures (which seems appropriate). Each monster is part of a special set, and like the Kong sets, these appear to be based on their The Corps toy line, putting these about 3.75″ scale. The lineup is exclusive to Wal-Mart and includes:
Big City Brawl! Genetic Containment Division! – Subject: GEORGE
Big City Brawl! Genetic Containment Division! – Subject: RALPH
Big City Brawl! Genetic Containment Division! – Subject: LIZZIE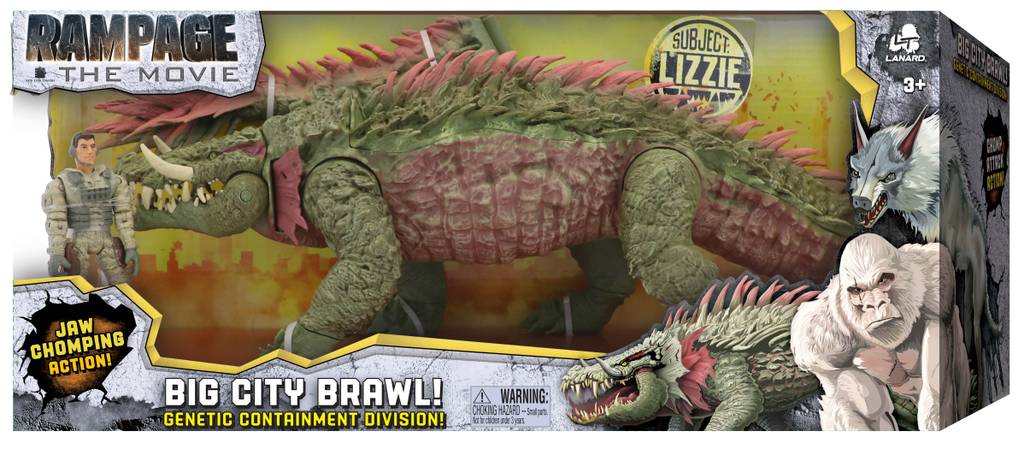 Canister Contact Genetic Containment Division! – Subject: GEORGE
Canister Contact Genetic Containment Division! – Subject: RALPH
Canister Contact Genetic Containment Division! – Subject: LIZZIE
Mega-George
Rampage --- Super Stretch Figures
Ah, that's better. It looks like the new Rampage movie will indeed give way to some Rampage video game toys. But, those looking for high-quality action figures may be a bit disappointed. They include George, Lizzie and Ralph as stretchy figures (think Stretch Armstrong). These stretchy figures, while not accurately colored, our the first Rampage video game figures (outside of some plushies) that we've received.
Street Fighter --- Chun-Li and Zangierf Special Edition Figures
Alternate color versions of Chun-Li and Zangief are being released by Storm Collectibles. Toyark sponsor Big Bad Toy Store has opened up pre-orders for the two upcoming Street Fighter V 1/12 Scale Figures. Chun-Li is presented in a pink outfit, while Zangief is presented in an aqua colored outfit. Look for these to be released in March.
Warcraft --- Warcraft Movie Kilrogg Deadeye and Medivh Premium Statues
Photos and details have been released for a new Warcraft Movie Kilrogg Deadeye Premium Statue and Medivh Premium Statue coming from DAMTOYS. Deadeye stands over 29″ tall while Medivh is (a still impressive) 27″. They feature a main polystone sculpt, with real leather, fabric, and rooted hair throughout. Pricing and release details have not been finalized at this time.
Collector's Editions
God of War --- Stone Mason Edition
In this weeks Gamestop ad, they revealed that God of War will be getting an "Ultimate Edition" release, complete with a slate of collectibles. Known as the God of War – Stone Mason Edition, this collection will include a 9″ tall statue of Kratos and his son Atreus. The statue is being designed and produced by Gentle Giant.
Shadow of the Colossus - Collectors Edition (UK)
UK retailer GAME announced that they will be exclusively distributing the Shadow of the Colossus Collector's Edition. Costing £47.99, the premium product will include the game and a Valus figurine. It's worth noting that this is different from the previously announced Shadow of the Colossus limited edition, which will release in North America.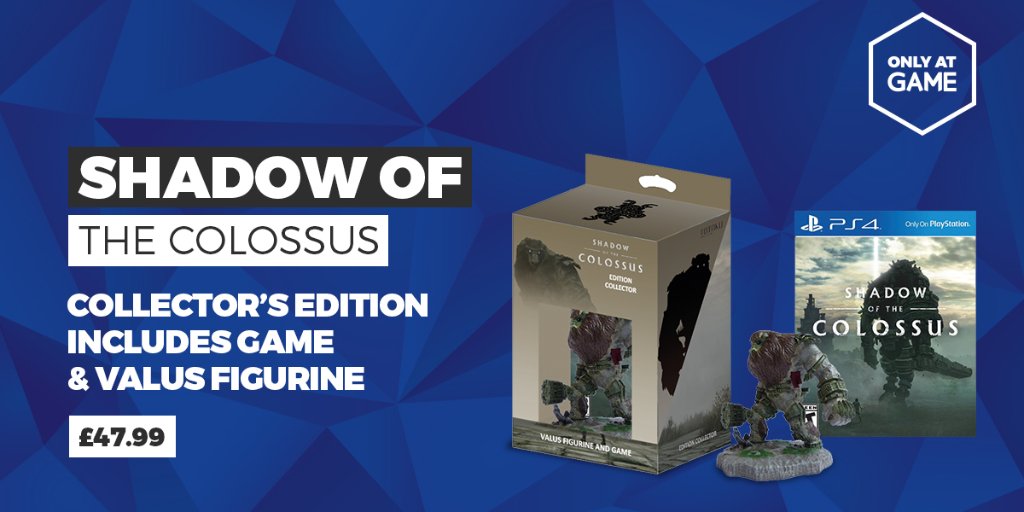 Shining Resonance Refrain - Special Edition
Shining Resonance Refrain's newest trailer gives fans an overview of what's new in the upcoming PS4 remaster. The most notable additions mentioned in the trailer are newly playable characters Julius and Riela, the new events added for them and the inclusion of all the DLC originally released for the PS3 version of the game. The rest of the trailer was devoted to introducing the "Premium Fan Box" version of the game. This special edition of the game includes the game, a drama CD, a soundtrack CD, an art book and of course a special edition box.
SNK Heroines: Tag Team Frenzy - Diamond Dream Edition
NIS America has announced the SNK Heroines: Tag Team Frenzy collector's edition, known as the Diamond Dream Edition, following the game's reveal yesterday. Available on both PS4 and Switch, the game brings together a bunch of SNK Playmore female fighters in one big fan-service-fuelled brawl. You can check out the contents below, which are the same across both versions bar which platform you decide to go with. Included is a size L sleeveless shirt, a hardback artbook, a Fatal Cutie cap, the game's soundtrack, a workout towel and sweatband, and a lapel pin set. Of course, a box to house it all along with a copy of the game is included too.
Plushes
Pokémon --- Evil Villain Pikachu and Legendary Pokémon Plushies
Pokemon Center's highly anticipated Evil Villain Pikachu and Legendary Pokémon Plushies are now available in Japan, and cover a TON of the factions across all generations.
First up, here's Team Rocket's Giovanni Pikachu and Mewtwo plushies.

Followed by Team Magma's Maxie Pikachu and Groudon…
Team Aqua's Archie Pikachu and Kyogre…
Team Galactic's Cyrus Pikachu as well as Dialga and Palkia…
Team Plasma's Ghetsis Pikachu, Reshiram, and Zekrom…
Team Flare's Lysandre Pikachu, Xerneas, and Yveltal…
Last but not least Team Skull's Guzma Pikachu and Golisopod!
Pokémon --- Pichu and Typhlosion Pokémon Center Plush
The Pokemon Center has released brand new standard size Pichu and Typlosion plushies in Japan. The plushies, based on the two Gen-2 Pokémon, will come plain and not be dressed for any occasion. It will join the ranks of other Pokemon plushies currently being sold in the Pokemon Center.
Pokémon --- Takara Tomy Snugly Plushies
Takara Tomy Arts has revealed a new lineup of Pokemon Snugly Plushies that not only feature Pokemon, but their human companions found in the Pokemon anime! All of the Pokemon Snugly Plushies sit in an upright position as if they were posing for a photo shoot. Characters included in the snugly plushies lineup are Jessie, James, Brock, Ash, Misty, Meowth, Psyduck, Pikachu, and Vulpix.
Edibles & Stationary
Final Fantasy --- 30th Anniversary Whisky
Can't believe Final Fantasy is already 30 years old….wait….that mean's I'm 30 years old, too!  Well, what better way to celebrate/forget, than to crack open a bottle of whisky. Teaming up with Scottish Distillery, Glenfarclas, as well as Japanese alcohol retailer, Shinanoya, Square Enix presents its fans with 303 bottles – an extremely low production run. And at $335 USD, it's definitely not for everyone. If you are a whiskey fan though, or a Final Fantasy fan, this is an awesome talking piece for any collection.
Space Invaders --- 40th Anniversary Plush Cushions
To celebrate the 40th Anniversary of this legendary arcade game, Taito, in conjunction with Tanaka Kikinzoku jewelry, is releasing 3 giant-sized plush cushions. The entries will includ the "Crab", "Squid" and "Octopus", and each one is a wopping 5kg+.
Space Invaders --- 40th Anniversary Gold Statuette
If plush-pillows aren't your thing, maybe you can make your way over to Roppongi Hills in Tokyo when Taito arrives to sell these 400gram pure gold statuettes. The pieces were created with the cooperation of Tanaka Kikinzoku jewelry and contain the commemorative logo and serial number on the back. You can even add any name you want to the plaque. I 'may' have to pass on this one, but if you end up getting your hands one, you're my new best friend!
Streets of Rage --- Streets of Rage 3 Data-Discs Vinyl
One of the most unique, ambitious and experimental game soundtracks ever made. Now on vinyl for the very first time. 
Streets of Rage 3
 is presented as a double 180g LP in a heavyweight single pocket sleeve, with accompanying lithographic print featuring artwork from the SEGA archives in Japan. The audio was sourced from original hardware and carefully remastered in collaboration with Yuzo Koshiro, who also supplied exclusive liner notes for this release.
Tetris --- Tetris Block Mascot Gashapon Chains
Takara Tomy is taking us back in time with these 7 collectible Tetris keychains. They're gonna be sold in Gashapon machines all over Japan for 200 yen a spin.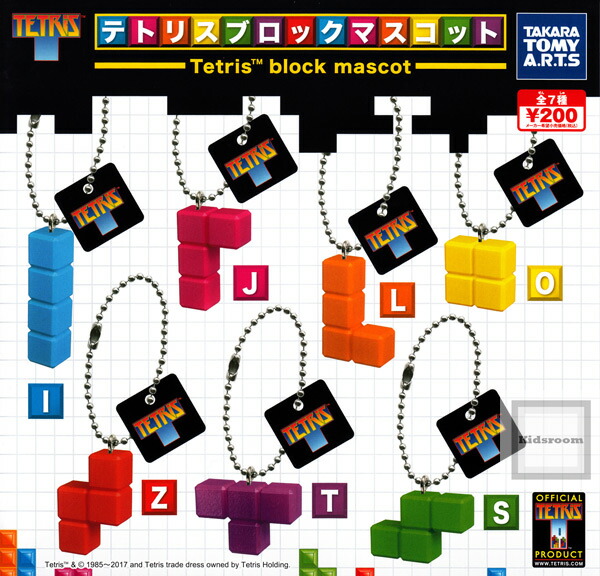 The Legend of Zelda --- UNO Card Game
It's a Hyrule Adventure every time you play The Legend of Zelda edition of UNO®, sold exclusively at Game Stop! The deck features classic UNO® game play, plus some special Legend of Zelda touches. For example, each 3, 6 & card of each color has a Triforce symbol on it. And the special Wild Triforce Card, found only in this version, forces your opponent to play a card of a specific color with a TRIFORCE SYMBOL ON IT. If they don't have one, they have to draw three cards from the Draw Pile. A great gift for Legend of Zelda fans. Contains 112 cards plus instructions. For 2 to 10 players, ages 7 and older. Colors and decorations may vary.
Clothing & Apparel
Mega Man --- 30th Anniversary Tees
Play Asia, purveyors of import video games and related goods, are loading up on a pair of official Mega Man 30th anniversary t-shirts. Originally sold through E-Capcom, everyone outside Japan will now have the opportunity to scoop these up just in time for spring weather. Hit the link above and check 'em out.