Well, February is here and that can only mean one thing…..TOY FAIR!! That's right, Toy Fair 2018 graced New York City, and it came with an impressive helping of gaming goodness. There's a little bit of everything here, so hopefully, you find something you enjoy. If you do, be sure to head on over to the Cartridge Club forums and share your thoughts.
As always, thanks for reading!
Figures & Statues
Assassin's Creed --- Jazwares 4'' Scale Figure Set
I've never been a huge fan of Jazware figures, but Amazon's listings for a new line of Assassin's Creed 4″ Scale Figures note that the first four are due for release on February 27th. They are priced at $9.99 each (which is acceptable I suppose), and feature about 19 points of articulation and will include a minimum of two accessories each. The figures include:
Assassin's Creed: Syndicate – Evie Frye
Assassin's Creed – Altair Ibn La'ahad
Assassin's Creed: Revelations – Ezio Auditore
Assassin's Creed: Syndicate – Jacob Frye
Borderlands --- McFarlane Toys Krieg the Psycho and Lilith the Siren
Gearbox Software tweeted out that McFarlane toys are to release new figures based on the hi-octane RPG series, Borderlands. The tweet features prototypes of sinewy head-caver Krieg the Psycho and treasure-huntin' siren Lilith. The latter in particular looks like she's 
seen some shit
 out in the wastelands, man. This deadly duo join previous releases ClapTrap, Tiny Tina and Handsome Jack, who hit the shelves back in 2017. Krieg and Lilith feature articulation points and accessories, and are both scheduled for release in July 2018.
Call of Duty --- McFarlane Toys 6'' Figures
McFarlane Toys unveiled their two new Call of Duty 6″ Figures at Toy Fair 2018. The first two figures coming from the line are John "Soap" MacTavish and Simon "Ghost" Riley. They have posted the official product pages for the figures. Originally thought to be part of their 7″ scale line, the product pages list them as being 6″ scale instead. They are due out this Fall at a price of $19.99 each.
Crash Bandicoot --- Deluxe Crash with Hoverboard 7" Scale Figure
The official product photos for the upcoming Crash Bandicoot – Deluxe Crash with Hoverboard 7" Scale Figure have been released by NECA. We were able to see this figure in person during Toy Fair 2018, and is part of their new line of Crash Bandicoot figures. This is due for release in the third quarter of the year.
Cuphead --- Cagney Carnation Funko Pop! Vinyl
You're up! It's a good day for a swell battle! Get ready for Cagney Carnation! Be careful, this flower has thorns! Revealed at the 2018 Emerald City Comic Con, this was one of the awesome new Funko products that fans had to look forward to. I, for one, would LOVE to see a full boss lineup come out.
Dark Souls --- Artorias the Abysswalker SD 8
First4Figures is laying heavy on the Dark Souls franchise, and this newest edition is yet another awesome installment. This is the Artorias the Abysswalker SD 8″ PVC Painted statue. This guy comes with a numbered logo base with LED light-up function, collectors box and authentication card. If you were a fan of the earlier released "Non-SD" version, then this'll be the perfect accompanying piece for any collection! And check out what you get if you pre-order!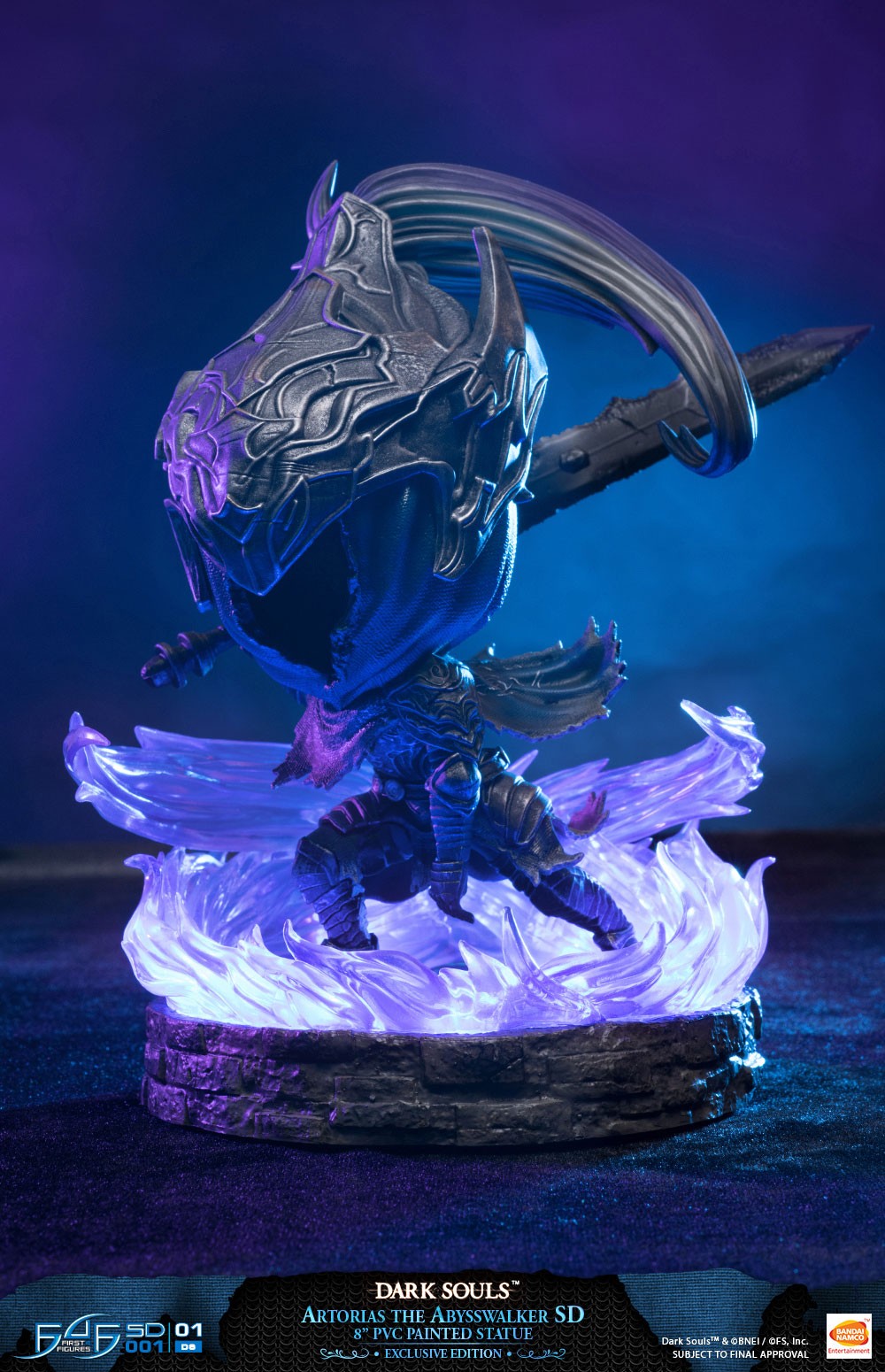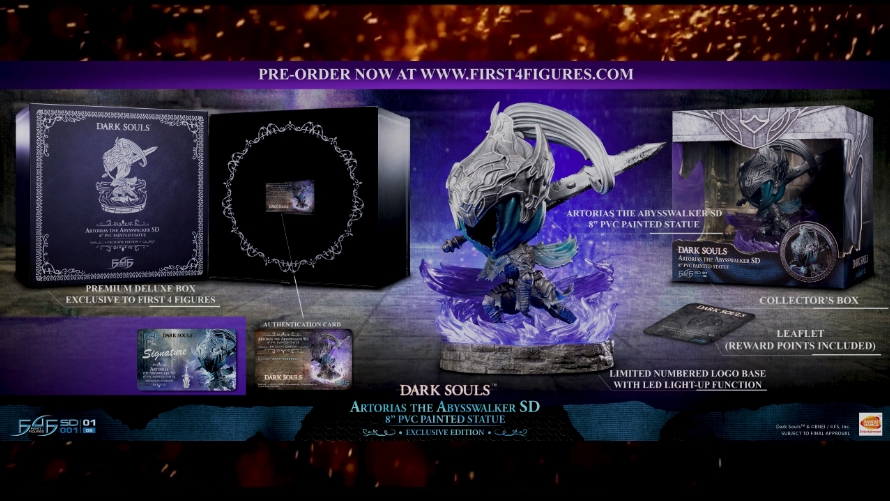 Destiny --- The Hanged Man Shader 1/6 Scale Figure
ThinkGeek now has an exclusive Destiny – The Hanged Man Shader 1/6 Scale Figure available to order. The figure is being produced by 3A. Priced at $229.99, the figure is in stock now! The figure includes a Dread Explorer Shell, Hawkmoon, Deviant Gravity-A, Hammer of Sol, and two interchangeable hands.
Fate/EXTELLA --- Atilla -Street Vacation see.- 1/8 Scale Figure
I've really gotta start playing these Fate/ games, because it seems like every week there are a few that hit pre-order status. This Funny Knights entry, directly from Fate / EXTELLA, is based on Atilla. She'll stand at 21cm in height and is a mix of ATBC-PVC and ABS – standard from the Funny Knights lineup. February 28th marks the pre-order date for this one, so if you're a fan, now's your chance!
Five Nights at Freddy's --- Funko Arcade Vinyl Figures Lineup
Funko has been going nuts with the Five Nights at Freddy's license, and the New York Toy Fair 2018 had even more to offer. This time, 5 seated "Arcade Vinyl" figures including Toy Freddy, Nightmare Freddy, Plushtrap, Foxy Pirate and Golden Freddy.
Hatsune Miku --- Hatsune Miku GT Project 2016 Thai Ver. 1/8 Scale Figure
The official character of the Hatsune Miku GT Project, "Racing Miku" has been transformed into a 1/8th scale figure based on her 2016 Thai Ver. design! The illustration of this version was originally drawn by popular animator Mai Yoneyama in support of the race in Thai, but has now been transformed into a dynamic figure for fans to enjoy by their side! Her golden brown skin and energetic appearance has been captured in careful detail as she runs along with a huge smile on her face, ready to cheer you up whenever you need!
Kingdom Hearts --- Diamond Select Toys Kingdom Hearts Minimates and Vinimates
At the Diamond Select Toys booth at Toy Fair 2018, we were able to see a few new lineups of Kingdom Hearts Minimates and Vinimates figures. These look maybe 'marginally' better than the Sonic the Hedgehog ones – but not by much. But if you're a fan of Minimates, then why not! The first set includes 6 figures including Sora, Donald Duck, Space Paranoids Donald Duck, Tron, Goofy and King Mickey. The second set is the Vinimates set with 5 entries Organization 13 Micky Mouse, Pete, Master Form Sora, Space Paranoids Goofy and Heartless Soldier. The final set is the Kingdom Hearts DLX Light Cycle Minimate Set which contains a Space Paranoids Sora and Light Cycle combo.
Mega Man --- Bandai Hero 66 Lineup
We've already seen a few of these Hero 66 figures released but looks like there's some more right around the corner, courtesy of Bandai. Looking forward to Starforce Mega Man (Geo Stellar), Super Adapter Mega Man, Cutman and the Ride Armors. Thanks, Pixel Dan for this coverage of the Bluefin Tamashii Nations booth at Toy Fair 2018!
Mega Man --- Jakks Pacific Mega Man Lineup
By way of Pixel Dan, here's a closer look at Jakks Pacific's upcoming Mega Man toys. We get to see more of the articulated 8-bit mini figures, plushies and the 10-inch tall classic Mega Man figure. The figure on display, apparently, was only a prototype. The final version will reportedly recognize and react to different weapons plugged into the Mega Buster. The weapons on display were Ice Slasher, Rolling Cutter and Hyper Bomb. Big thanks to Pixel Dan for the coverage on this one.
Overwatch --- Funko Pop! Vinyl Lineup
Can't get enough of the newest wave of Ovewatch Pop!? These things have been insanely popular, which makes me feel like I'm missing out on not playing this game. But if YOU'RE a fan, here's some more exclusives to expand your collection. Collect a Translucent Sombra at Hot Topic. Find a cobalt version of Mercy at GameStop and ThinkGeek. At WalMart look for a blueberry colorway of D.Va inside her MEKA! And of course, don't forget to collect the latest wave of Overwatch Pop!
Overwatch --- Widowmaker Figma
The people of Japanese toy manufacturer Good Smile Company have announced that Overwatch's sultry, deadly sniper Widowmaker is next in line to receive the Figma treatment. A selection of stills shows the incomparable assassin in a range of stylistic poses. Widowmaker appears to feature the high-quality sculpture the range is known for, as well as the typical Figma articulation, allowing the character, who stands roughly 6.5 inches in height, to be posed in all manner of dramatic action shots. Widowmaker comes with her trademark "Widow's Kiss" rifle, which can be adapted to sniper or full-auto mode. Also included are her grappling gauntlet and visor. The Figma even has an alternate faceplate with one eye closed, to make sure her aim never misses her mark. What a fucking great looking figure. Pre-orders open on Februray 27 until April 12 at the official Good Smile website. Widowmaker is expected to cost a little over ¥7,200 (or $67) and won't be shipping until this December.
Pokémon --- Jollibee Battle Squad Toys
Jollibee, a famous fast food chain based in the Philippines, has released brand new Pokemon Battle Squad toys that come alongside every Kids Meal purchase. Pokemon Battle Squad toys will be offered from March 1 to 31, 2018. Designs available are Pikachu, Rockruff, Togedemaru, Bounsweet, and Alola Vulpix.
Explore a tropical paradise with your Pokémon Battle Squad! Get one toy for every Jolly Kiddie Meal. Available in all stores nationwide!ASC Ref. No. J040P022218J

Posted by Jollibee on Thursday, March 1, 2018
Pokémon --- Mega Construx
The Pokémon Mega Construx lineups have been met with huge success among fans, and Toy Fair 2018 was able to show us a few new upcoming entries that we can look forward to later this year.
Pokémon --- Wicked Cool Toys Lineups
Wow! Looks like Wicked Cool Toys got the master license for Pokémon (sorry, Tomy!) so a lot of amazing figures are right around the corner. These look amazing!!! I especially like how dynamic some of these sculpts are. Damn this series and their 800+ monsters!!!
Rocket League --- Hot Wheels Rocket League RC Rivals Set
Rocket League and Hot Wheels cars have always felt like a match made in heaven. Last year, the two brands teamed up to put Hot Wheels cars into the popular vehicular soccer game, and this fall will see the logical conclusion of that partnership, with Hot Wheels releasing a real-life version of Rocket League with remote-controlled toy cars. The set was first spotted by Kotaku earlier this week. The set will cost $120.99, and comes with a stadium, two cars (designed after the digital Rocket League's Octane and Dominus racers), and a ball equipped with IR signals to keep accurate score. The cars themselves are controlled via Bluetooth from a connected smartphone, similar to things like Anki Drive.
Shin Megami Tensei --- Pixie Figma figure
Japanese toy manufacturer Good Smile Co. have opened pre-orders in February on the latest Figma in their Persona range, and it's the instantly recognisable Pixie, star of multiple games in the SMT series' long-running history. The figure stands around 6.5 inches tall and, as expected, comes with multiple articulation points and a clear stand, allowing for all manner of gravity-defying poses. Pixie comes with interchangeable hands and face-plates, and features beautiful iridescent-coloured wings. Pre-orders for this Figma are open until March 29, with a price tag of ¥5,300 (around $50) not including shipping or any customs charges that may be lurking at your local mail depot. Pixie is scheduled to ship around August of this year.
Sonic the Hedgehog --- Diamond Select Toys Sonic the Hedgehog Minimates
At the Diamond Select Toys booth at Toy Fair 2018, we were able to see the new lineup of Sonic the Hedgehog Minimates figures. These look…..well, you be the judge. But if you're a fan of Minimates, then why not! There are 8 in the set, including Sonic the Hedgehog (2 variations), Super Sonic, Silver the Hedgehog, Amy Rose, Dr. Eggman, Miles 'Tails' Prower and Cream the Rabbit with Cheese.
Splatoon --- Inkling Girl Figma Figure
At Winter Wonder Festival 2018, Good Smile Company revealed some new figures as part of their Figma line up. These included our first look at some all-new licenses, such as Alien and Predator. While there were a tone that were announced, the number 400 spot deservedly went to Inkling Girl. Check it out here in all its painted glory.
Splatoon --- Marina and Pearl Amiibo
Marina and Pearl, the Splatfest hosts of Splatoon 2, are getting amiibo! The additions were announced after Splatoon 2 Koshien 2018 tournament wrapped up early this morning. The teaser trailer shows the pop duo being greeted by adoring fans in Inkopolis square. No details yet on what features they will bring when activated within the game or when they launch. Nintendo of America's Twitter said "later this year." They're available only as a $24.99 two-pack.
Street Fighter --- Pop Culture Shock Collectibles Guile 1/4 Statues
In this weeks Pop Culture Shock Collectibles Newsletter, they have released the first official photos and details for their Street Fighter – Guile 1/4 Statues. At current count, it looks like there will be five variations of the statue, including an Ultimate version, which should include numerous display options. One of the versions will only be available to select raffle winners who will be given the opportunity to buy it. Pre-orders begin on March 5th.
Here's just a little taste of what's in store…
GUILE 1:4 Scale Statue – Retail Version – $474.99
GUILE 1:4 Scale Statue – PCS Exclusive – $474.99
GUILE 1:4 Scale Statue – PCS Player 2 Exclusive – $474.99
GUILE 1:4 Scale Statue – PCS Exclusive ULTIMATE Version – $849.99
GUILE 1:4 Scale Statue – PCS Tactical Exclusive – $599.99
Team Fortress --- Team Fortress 2 NECA Series 3.5 BLU 7″ Scale Figures
From one of the best-selling and most successful games in the Valve library comes the long-awaited Team Fortress 2 Series 3.5 BLU action figures come to fans this May. This series includes BLU versions of the Engineer and the Spy. These figures were on display by NECA at Toy Fair 2018. The 7″ scale Engineer and Spy figures are faithful to the animated look of the characters. They feature over 25 points of articulation and include their signature in-game weapons and accessories.
The Witcher --- The Witcher 3: Wild Hunt Prime 1 Studio Ciri of Cintra Statue
Prime 1 Studio has released photos and details for their newest Witcher 3 statue. Coming soon is their Ciri of Cintra Statue from The Witcher 3: Wild Hunt. The statue stands about 27″ tall (from base to top of sword), atop a massive themed base. There will be a standard and exclusive version. The exclusive edition will include an extra interchangeable head sculpt.
Tomb Raider --- Lara Croft Funko Pop! Vinyl Figure
Since her debut in 1996, Lara Croft reigns as the undisputed queen of gaming and is now joining Funko Pop! Shown with the iconic look from the award-winning 2013 reboot Tomb Raider. Add Lara to your collection!
Tomb Raider --- Tomb Raider Barbie
Mattel is releasing a new Barbie based on Alicia Vikander's portrayal of Lara Croft in the upcoming Tomb Raider film. IGN had the exclusive first look before Mattel unveiled her to the world at the New York Toy Fair. Tomb Raider Barbie will retail for $29.99 and you can preorder her over at Barbie.com starting February 19, 2018.Tomb Raider Barbie comes equipped with an axe for decapitating Malibu Ken, a map, journal, a certificate of authenticity as well as a stand for the doll.
Collector's Editions
Dark Souls --- Dark Souls Trilogy Box Set
If you've been living under a rock, you may not have heard that the original Dark Souls is getting a remaster. Exactly what us Souls fans have been longing for now that it's finally dropping, have you seen the Japanese Exclusive Collectors Edition? Not only does it come with the Dark Souls remaster, it also comes with Dark Souls II and Dark Souls III. Now if that's not good enough, it comes with all the DLC released for said games. The soundtracks for each of the games. A encyclopedia. A unique art set andddddd the famous Knight and Bonfire in the form of book ends. Phew. The collection is due out May 24th in Japan only and is set to cost you a hefty 49,800 Yen (£340).
Harvest Moon: Light of Hope --- Special Edition
Natsume announced that Harvest Moon: Light of Hope Special Edition is available for pre-order for $39.99 at GameStop. A 6-inch Harvest Moon Chocolate Cow Plush is included as a pre-order bonus with the standard boxed retail version. Harvest Moon: Light of Hope Special Edition will be launching on Nintendo Switch and Playstation 4 both at retail and digitally in May 2018. "Every Harvest Moon game has included the beloved cow, so they've become a symbol of the Harvest Moon franchise. The chocolate cow is the perfect companion for the release of Harvest Moon: Light of Hope Special Edition," said Hiro Maekawa, President & CEO of Natsume. "Collectors, fans, and new players alike won't want to miss out!"
Muv-Luv --- The Muv-Luv Complete Set
PlayStation Vita owners intending to purchase both Muv-Luv games when they are released now have a new option. Rice Digital has announced its exclusive Muv-Luv Complete Set Collector's Edition. This allows people to get physical copies of Muv-Luv Extra, Muv-Luv Unlimited and Muv-Luv Alternative with some extras all at once. This Muv-Luv Complete Set Collector's Edition begins with physical copies of Muv-Luv (which gives you Extra and Unlimited) and Muv-Luv Alternative. It then adds on six art cards with character designs from both games. All of this is stored in a protective slipcase.
Plushes
Persona --- Persona 5 Cocorot Plushies
Video game merch company Algernon Product have released images of an upcoming set of soft toys, designed after the hipster heroes of Persona 5. The quirky spherical plushies are part of the "Cocorot" range. Measuring an adorable 70mm in height, there are nine characters available in all. Each plushie is magnetized so they can be perched without rolling away. Although they will be sold via that monstrous method known as "Blind Boxes", it is possible to just purchase an entire set. Early runs of the complete set will also come with an exclusive Phantom Thieves calling card.
Pokémon --- Takara Tomy Arts Singing Pikachu Plush
Takara Tomy Arts has announced a brand new Pikachu plush called the Singing Pikachu Plush. The Singing Pikachu Plush is a Pikachu that knows how to sing (by singing using the words Pika, Pi, Ka, Chu) and speaks based on what the user tells Pikachu. While singing or talking, Pikachu will move up and down too.
Edibles & Stationary
After Burner --- After Burner II DATA-Disc LP Vinyl Soundtrack
Music from the arcade classic, newly remastered and available on vinyl for the first time outside of Japan. Composed in 1987 by SEGA's legendary in-house programmer, Hiroshi "Hiro" Kawaguchi (OutRun, Space Harrier), this vinyl release of After Burner II features the complete arcade score, along with an unused "Melody Version" of the title track. In addition, we are proud to include a second disc of bonus material, including three arranged versions by SEGA's in-house live band (S.S.T. Band) from 1988, along with a keyboard and brass-infused medley performed by Hiro's current band, SEGA Sound Unit [H.]. After Burner II is presented as a double 180g LP, cut at 45RPM and housed in a heavyweight single-pocket sleeve. Also included is a 250gsm foldout poster of the original artwork, featuring the iconic F-14 Tomcat fighter jet, which has been newly licensed for this release.*
Mega Man --- Capcom Cafe's 30th Anniversary Promo Swag
This event kicked off in Japan on Feb. 22nd and has a lot of collector's scrambling to get their hands on these goods. There's a blue "harb" tea set that'll set you back 1800 Yen, a cork coaster that sells separately for 800 Yen, a slew of desktop-related goods – clear files, ballpoint pens and notepads – will be on-hand to buy as well. These will run from 500 to 600 Yen a piece. Finally, we also see acrylic keychains, stickers, clips, a mini towel, a coin purse, aaaand an iced cookie.
Pokémon --- Pokémon Sun/Moon Fruit Jellies
Furuta has announced that it'll have a new pack of Pokémon snacks hitting store shelves this March. First are the fruit gummies. There are a total of 17 molds in these 8-piece packs, mimicking famous Pokémon from the Sun/Moon installments. These have a shelf life of 6 months, so eat them quickly (or not at all)! Second, and my personal favourite, are the chocolate character cookies, also from the Sun/Moon games. Each bag has 16 individual packaged cookies – but no word on if that means 16 unique sets of package art. We'll find out soon!
Super Mario--- Furuta Super Mario Chocolates
Famous for their licensed treats, Furuta has announced that it'll have a new pack of Super Mario Chocolate hitting store shelves on March 19th across Japan. There are 11 different molds to collect in each bag (if you're into that sort of thing), but keep in mind, they have a 12-month shelf life. Seems like a bit of a lazy rehash of their previous New Super Mario Bros. U release, but hey, chocolate is chocolate!
Electronics
Mega Man 2 --- MSI Entertainment Plug and Play
Not sure how this one managed to slip under the radar, but it looks like the device is officially licensed by Capcom. It's magically appeared on Wal-Mart store shelves all around the US to get out and pick one up for yourself (and me!). It's currently retailing for $17.88
Clothing & Apparel
Street Fighter --- Street Fighter II Funko T-Shirt
Funko doesn't often do the whole 'apparel' thing, but when they do, it's usually awesome! This year, at the 2018 Emerald City Comic Con, they revealed this limited edition Street Fighter II t-shirt. It even comes in arcade-style packaging!