Got some great reviews on the inaugural blog post. Huge thanks to all of you for the great conversation and support – made this endeavor so much more rewarding! With hopes of catching that lightning in a bottle twice, figured I'd try another post. But first!:
---
Last Time on DRMU: Riding the highs of the Marvel Cinematic Universe, Dean set out on his quest to dive deep into the comics that created it all. For his first endeavor, he decided to take on Issues #1, #2 AND #3 of The Fantastic Four, and topped it off with Issue #27 of Tales to Astonish. While reading, he was introduced to some well-known heroes, including Thing, Mr. Fantastic, Human Torch, Invisible Woman and Ant-Man, and some early Marvel villains like The Mole Man over on Monster Island, the Skrulls in space, and the Miracle Man right in the heart of New York City. With his knowledge growing, he was ready to take on the next issues, and see what Marvel had in store!
---
Continuing the trend of early Silver Age issues, this comic quartet introduces Luther Gorr, The Incredible Hulk, Namor (who arguably was around since the early 40's, but this is the first time he's appeared in the 616 line), and May Dusa. The lineup was decent, with a few "astonishing" stories sandwiching two action-packed staples, and I'm getting excited to start seeing some crossovers happen. Hopefully soon! In the meantime, I hope you enjoy these next 4 reviews
---
Tales to Astonish

 #29

 

Title: When the Space Beasts Attack!!
Date: March 1962
Writers: Stan Lee, Larry Lieber
Pencillers: Jack Kirby

By recommendation, the next issue I wanted to dive into was Tales To Astonish #29. Like the others in this series, the comic is made up of multiple stories; but the headliner was "When The Space Beasts Attack". It chronicles the tale of the Space Beasts who come to Earth and ultimately take over the world, turning humanity into slaves of greater beings. It's something they've done time and time again throughout the universe; so how do the innocent populace liberate themselves you might ask? Read it to find out!
I know that positivity goes a long way, and going into these older issues with a good mindset, ready to set aside your disbelief, makes a world of difference….but I really didn't like this issue. I'm a sucker for continuity, as I'll likely mention time and time again, and this mini-story pushes the envelope a little too far. Had they enslaved a city or an island, I would've forgiven it, but the fact that they overtook the world and nobody ever speaks about it again just bothers me.
So why did I read it? Well, I had it on good authority that this was the first appears of Luther Gorr (of Thor fame), who'll become a recurring character in later issues. And being the completionist that I am, I just couldn't skip it. It's short, so give it a try for yourselves, but just know that this one isn't indicative of the rest of the Silver Age of comics.
---
The Incredible Hulk

 #1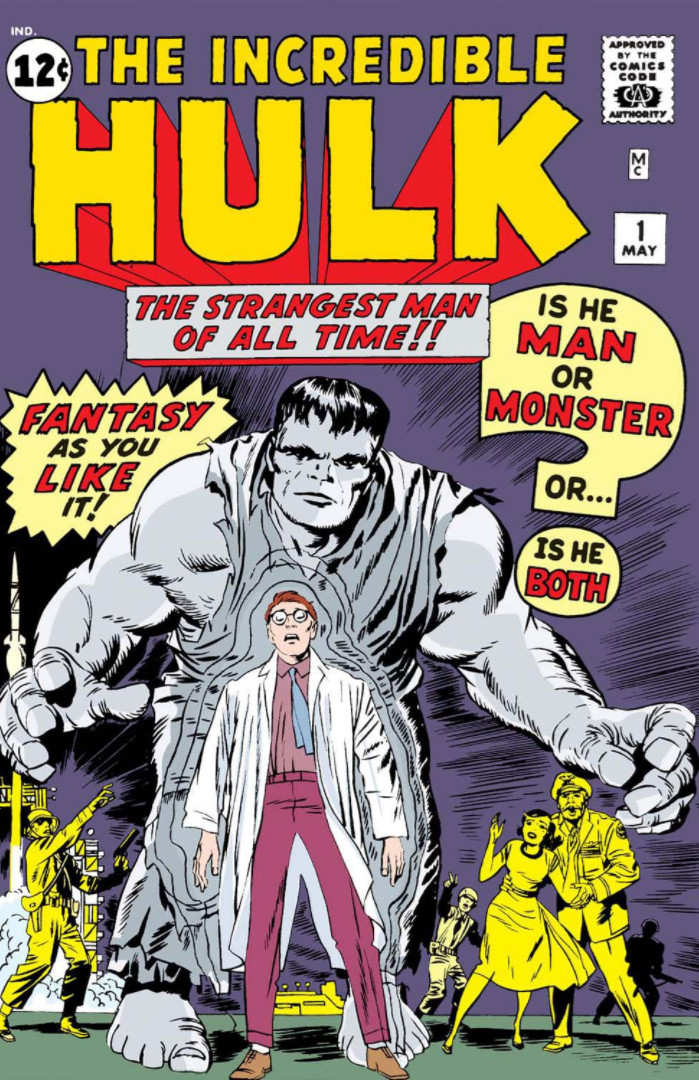 Title: The Hulk
Date: May 1962
Writers: Stan Lee
Pencillers: Jack Kirby

A new hero joins the fray in this May issue of the Marvel comic lineup. Continuing my break from Fantastic Four after their defeat of Miracle Man, I wanted to 'finally' get around to reading The Hulk's premiere issue. Having become familiar with his origin story growing up, this comic was exactly what I expected.
This first installment of the (very long-running) Hulk series, chronicles the original G-Bomb testing, and scientist, Doctor Bruce Banner's, overexposure to Gamma Radiation. The critical levels alters his cellular structure and ultimately turns him into the "blue" Hulk. The issue then goes on to introduce The Gargoyle, a deranged (and deformed) Soviet Scientist, and follows the mind-control antics of The Incredible Hulk's first villain. We also get to meet a few supporting characters, including General "Thunderbolt" Ross, his daughter Betty Ross, and teenager turned friend, Rick Jones.
If you're a fan of Marvel (I assume you are if you're reading these reviews), or have been keeping up to date with the MCU films, then you likely already know the story of Bruce Banner's unfortunate 'diagnosis'. This origin story though is a little different than you may have seen on the big-screen.
---
The Fantastic Four #4
Title: The Coming of … Sub-Mariner!

Date: May 1962
Writers: Stan Lee
Pencillers: Jack Kirby

The Fantastic Four…Issue Four….May Four….mind blown! With Hulk's origin out of the way, I felt like heading back over to New York to see what The Fantastic Four were up to. And it looks like they've had an encounter with a new enemy –  Namor, The Sub-Mariner!
Namor is a semi-villain that I knew through several X-Men comics, but had no idea that his comic lineup actually dates back to Marvel's "Golden Age" of comics during WWII; starting with "Deep-Sea Blitzkrieg" in Spring of 1941. I've since logged the first 42 issues in my library for future reading.
This issue was pretty cool. After recovering from his amnesiac spell, Namor returns to Atlantis (his home) only to find it in radioactive ruins – and he vows to take his revenge against
the human race. Using the Horn of Proteus, he summons Giganto (the largest creature on Earth) to wipe out New York. With the army's best artillery not making a scratch, it's up to the Fantastic Four to save the day. Into the belly of the beast!
Overall, this was a great issue! Loved hearing Johnny Storm 'finally' yell "Flame On!" Lots of action with some inner battles of emotion peppered in for good measure. Definitely recommend reading this one.
---

Tales to Astonish 

#32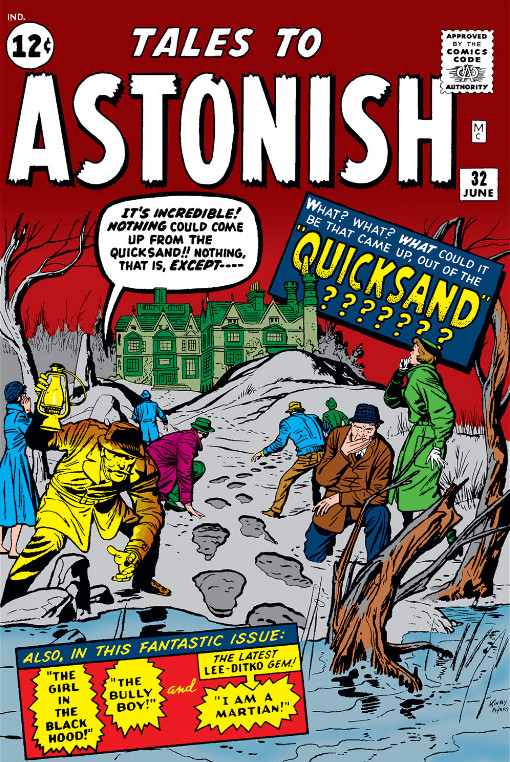 Title: The Girl in the Black Hood
Date: June 1962
Writers: Stan Lee
Pencillers: Don Heck

After the excitement with Namor, I decided to move off of The Fantastic Four yet again to check out another mini-story in June 1962's issue of Tales to Astonish. While the main story is "Quicksand!", the highlight for me was "The Girl in the Black Hood!". Fewer leprechauns…
This particular story revolves around a prodigy photographer in the 1920's named May Dusa……(c'mon Marvel). Nobody has ever seen her, but it's well known that she's rich. Casper Jones, a thief wanting to rob her of her riches, busts in and attempts to unmask her. The result is frightening and unexpected….(not really). Read it to find out!
Understandably a short issue, and most definitely not a staple in the Marvel canon, but with all the God of War hype these days, and after reading about the Horn of Proteus in my most recent Fantastic Four issue, I was craving a bit more Greek mythos before moving on.
---
That about wraps up this set of my reads. Would LOVE to hear what you guys think of these issues, or if you have any suggestions on other lineups I should read. Let's chat about all that and more right here, or over in the Cartridge Club forums.