After my first 20 issues, I figured it was time to take a quick break from the Silver Age, and read something a little more modern. But what to choose? I absolutely loved the Black Panther movie in early 2018, and haven't been very familiar with him in the comics, so I figured that was a good choice. There was a healthy roster of lineups to choose, but I decided on a 6-issue digital-run called "Long Live The King". Written by Nigerian-American writer, Nnedi Okorafor, the series opts away from the usual Avengers adventures, and instead focuses heavily on Wakanda itself, and the heavy weight of the crown. But before we get into my reviews, first:
---
Last Time on DRMU: Dean accompanied Hank Pym, a.k.a. Ant-Man in confronting the dastardly Ruskies in their latest plots, and then met one of his favourite super-villains, Loki, in Journey Into Mystery #85. Then it was off to Planet X in the 'Flying Bathtub' to stop Kurrgo and the Xantha, and finally, a leisurely trip down to Glendale to visit the hometown of Sue and Johnny Storm, as the Human Torch flames-on to stop the evil Destroyer from murder at the local amusement park.
---
Black Panther: Long Live The King #1 

Title: Blackout
Date: December 13, 2017
Writers: Nnedi Okorafor
Pencillers: André Lima Araújo 

Right off the bat, the artwork was a breath of fresh air. Being nose-deep in the 1960s with earlier Marvel runs, it was a nice change of pace. And I was taken aback by the amount of dialogue-less panels. Cell after cell portraying life in the futuristic Wakanda really helped set the tone. It got me away from my bad habit of scanning for the next word-bubble, and actually appreciating the detail. The trend continued throughout, telling the story through well-crafted images, abundant with emotion and expression.
The story begins in Birnin Zana, capital of Wakanda. A massive earthquake shakes the land, deactivating the Vibranium that powers its capital. T'Challa is drawn away from his books, and looks outside to see a giant spectral octopus-like monster; a piercing screech bringing him to his knees. The wildlife, sensing the absence of the Vibranium, go crazy; and within minutes the city is in wide-spread panic. With guidance from his aides, T'Challa dons his (now powerless) Black Panther suit, and it's off to the Mute Zones with Bukola and Jidenu to determine the source of the earthquake.
Overall, the issue was a nice setup. The worst blackout in Wakandan history, the mysterious Mute Zones who hack themselves off the grid, the country's sole reliance on Vibranium – some good beats which make for a (hopefully) strong storyline. I was excited to dive into the next issue.
---
Black Panther: Long Live The King #2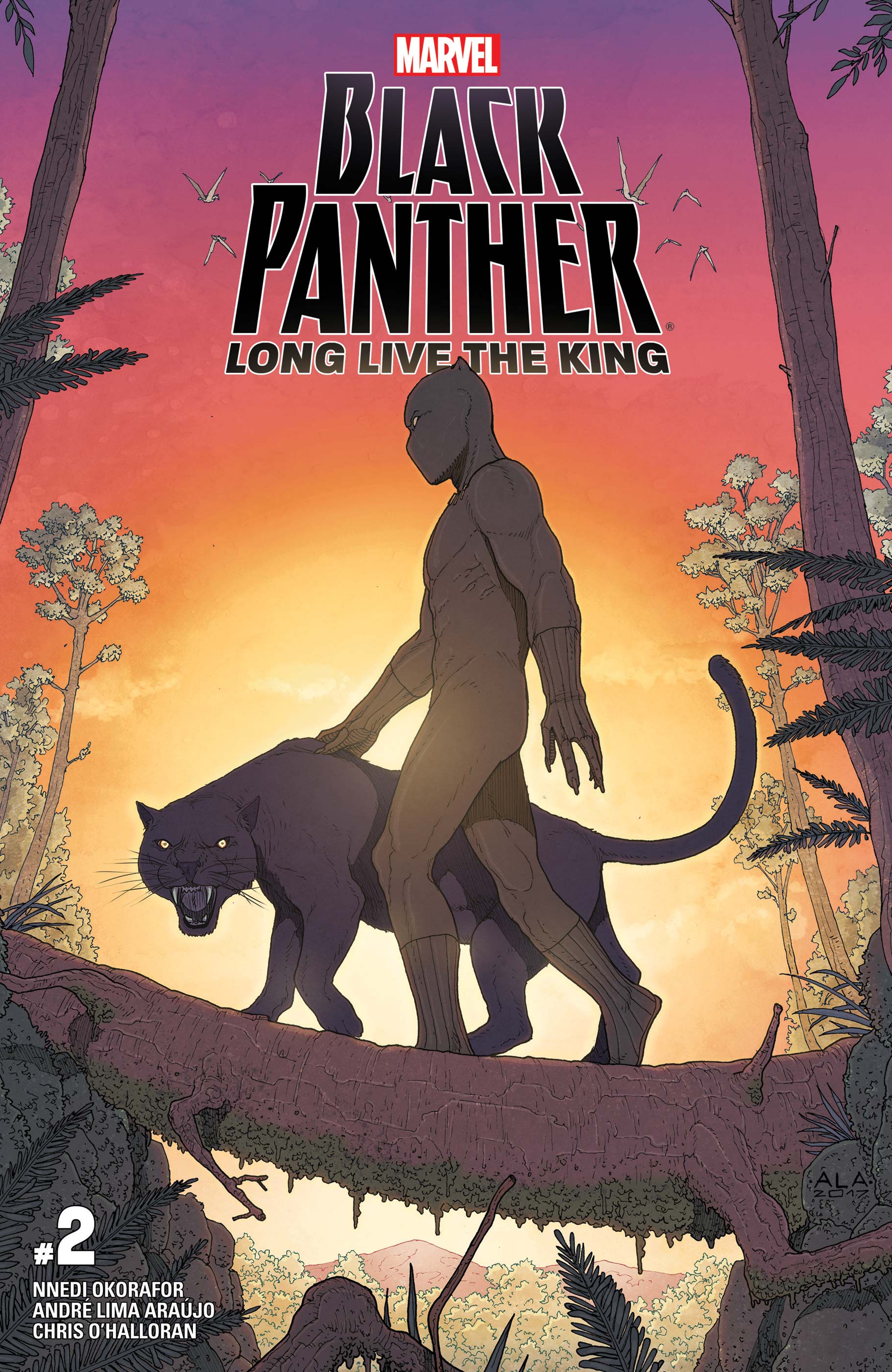 Title: The Sacrifice
Date: December 27, 2017
Writers: Nnedi Okorafor
Pencillers: André Lima Araújo

Moving on to Issue #2 of "Long Live the King", more of the same art-heavy cells lead off. Birnin Zana is underway with the repair works after the devastating earthquake from the last issue, and T'Challa, along with Bukola and Jidenu, is off to the Mute Zone. Again I was happy to see something different from the Silver Age design.
Arriving in the Mute Zone, the crew is met with the, not-so-supportive, populace. Shortly after, a mysterious fight ensues, where Black Panther needs to use his raw strength and skill to overcome his opponent. It's a more vulnerable depiction of our hero – something I think was intended in the writing. Less focused on power and machismo. There was an air of humility and humour that made him feel more human.
And that's it. Honestly, I'm finding it difficult to make these write-ups appealing, since so much of the enjoyment is lent from the visuals of the comic. While not much happens in the issue's arc, the ambience and tone is strongly set, and offers a deeper, richer experience than I'm used to. Definitely keen to continue reading on in Issue #3, to see where it takes us.
---
Black Panther: Long Live The King #3
Title: Keep Your Friends Close (Part 1)

Date: January 10, 2018
Writers: Aaron Covington
Pencillers: Mario Del Pennino

Still fairly new to comic styles, and what the acceptable norms are, but this issue completely threw me off. Coming off the cliffhanger from Issue #2, I had expected a continuation, but this gave us an entirely new story arc. Kicking off with a flashback of T'Challa's teenage years, and his relationship with childhood friend, Kantu – it soon fast-forwards into a village battle with M'Baku's White Gorilla Cult. Was this in the Mute Zone? It looked different – both in design and art-style. Why was this cast of villains suddenly introduced with nary an explanation box?
The story then led us to a mysterious area of the jungle, which turned out to be a robotic haven. The robo-animals had screeches which wreaked havoc on Vibranium, and caused some serious trouble for our titular hero. Okay, maybe this was related to the screeches heard back in Issue #1 that took out Birnin Zana's power supply? But the more I read, the more I realized that the two events were entirely unrelated. Turns out, Kantu has become quite the scientist, and has discovered that M'Baku is being resurrected by the necromancer, Baron Macabre. With the help of Black Panther, they set out tot he Jabari-Lands to stop the ritual.
The story had much more action than the previous issues in the run, but I was totally confused. Did I miss an entry? I mean, it was fun to read about M'Baku and Shuri for the first time (for me), and getting introduced to Baron Macabre, but I was really digging the Mute Zone stuff. I was convinced that the storyline was killed off. Further readings led me to realize that Issue #3 and #4, of this run, are actually from Aaron Covington / Mario Del Pennino, and the grand finale of the original arc will be in Issue #5. Sigh…I guess I wasn't a true believer.
---
Black Panther: Long Live The King #4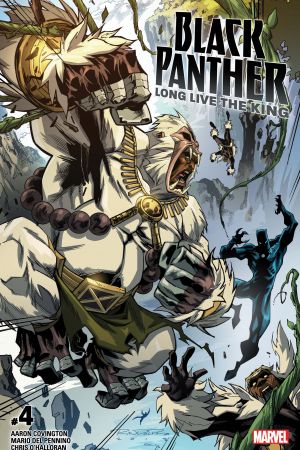 Title: Keep Your Friends Close (Part 2)
Date: January 31, 2018
Writers: Aaron Covington
Pencillers: Mario Del Pennino

Continuing off from the last issue, I had a good idea of what to expect. We were back in the Jabari-Lands, with T'Challa and Kantu (and the recently arrived Shuri) ready to take on the now-resurrected M'Baku. The issue had some solid action, and some fun moments. I really liked M'Baku from the MCU, but didn't realize that the comics put so much emphasis on the cult's 'ape-like' similarities.
Okay, so ultimately, as much as I hated the transition between Issue #2 and Issue #3, I actually enjoyed the familiarity that this section brought. There was a lot that I could reference back to the MCU, and that sat well with me. The stakes were kept to a sub-apocalyptic level, and because of that, it came off as a more personal story to Wakanda. I definitely recommend this two-parter, but I'm excited to get back to Nnedi Okorafor's stuff!
---
Black Panther: Long Live The King #5 

Title: Obinna's Folly
Date: February 14, 2018
Writers: Nnedi Okorafor
Pencillers: André Lima Araújo 

Alright, we're back! As much as I enjoyed the Covington arc, it was good to be back to this story. After T'Challa faced-off against, and defeated, the spirited panther way back in Issue #2, he was reunited with an old friend, Ìkoko, chief of the Town With No Name. Some reminiscing about the past yields some conversation around an elderly scientist and former professor, Obinna, and ultimately to a plot-point which leads Black Panther to some answers.
The issue wraps up nicely, and offers some closure to everyone we've been introduced to, but it left me wondering: what about Issue #6? Another side-story? Looking forward to it, but I think this story-line could've easily stretched across 6 issues, with a bit more action and lots more depth.  As always, happy I read it, but only check this out if you're really looking for more Wakanda. I don't imagine any of this will ever be made mention of in the future canon.
PS: There's a fantastic double-cameo in here from the Kinda Funny Games brand. Keep your eyes peeled!
---
Black Panther: Long Live The King #6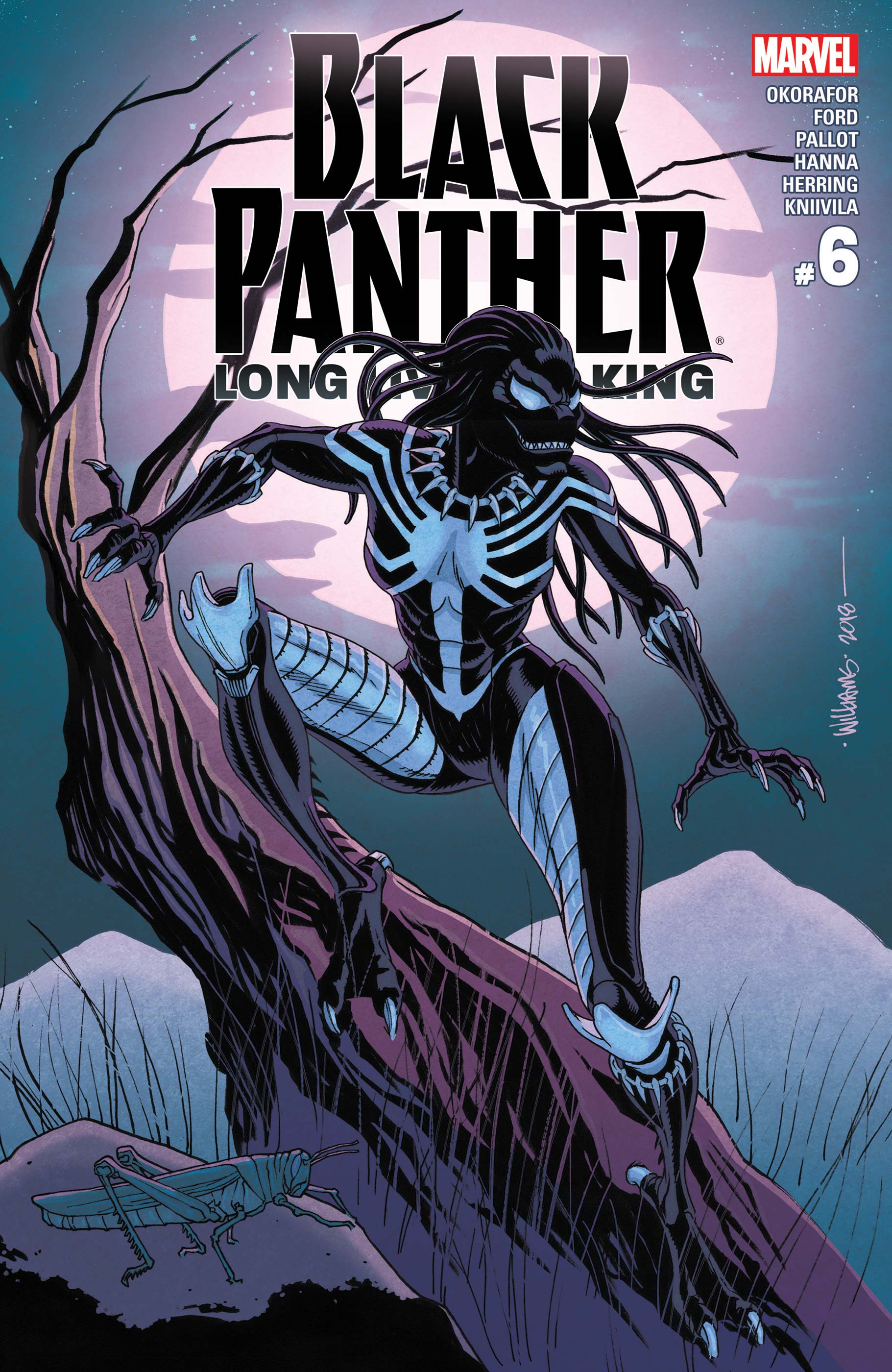 Title: Under The Bridge
Date: February 28, 2018
Writers: Nnedi Okorafor
Pencillers: Tana Ford

Wrapping up the run, we get to dive into the story of Ngozi, acting Black Panther and host of the Venom symbiote, as she returns to her home of Lagos to attend her aunt's wedding. When her ex-boyfriend now mutant, Olu, makes an appearance, he (along with fellow mutants Setan and Adoro) ends up stealing all the food from the family, and it's up to her to chase him down to find out what these antics are all about.
First and foremost, I loved this design of Venom. While the cover is very Predator-esque, the pages within depict Ngozi with insect-like wings to help her fly. Coupled with the panther-like claws and curves, and this is one bad-ass character! Hoping to see more of her in future Marvel runs.
---
That about wraps up this set of my reads. Would LOVE to hear what you guys think of these issues, or if you have any suggestions on other lineups I should read. Let's chat about all that and more right here, or over in the Cartridge Club forums.